Maternal and Child Health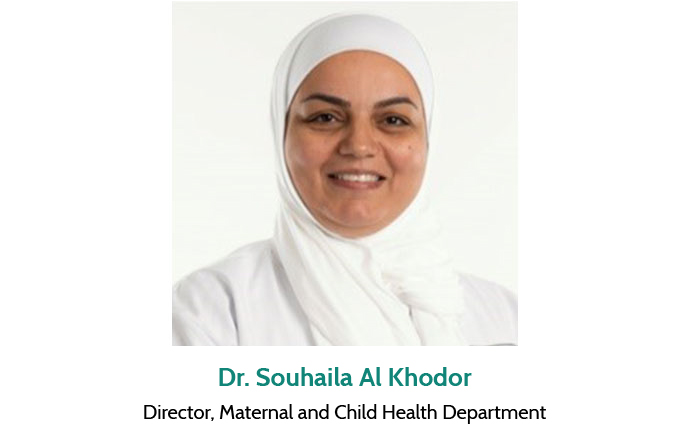 Dr. Souhaila Al Khodor received her bachelor's degree in medical Laboratory technology from the Faculty of Public Health at the Lebanese University in 2001. Soon after, she started her Master's degree in Microbiology and Immunology at the American University of Beirut while working as a Senior Microbiologist in charge at Hammoud University Medical Center in Lebanon (2002-2005). Dr. Al Khodor received her second master's degree and PhD in Microbiology and Immunology from the University of Louisville, Louisville, KY, USA (2005-2008). In 2009, Dr AL Khodor worked as a postdoctoral fellow in the Signaling Systems Unit, laboratory of Systems Biology, at the National Institute of Allergy and infectious Diseases (NIAID), National Institutes of Health (NIH) in Maryland, USA. In January 2015, Dr Al Khodor joined the research department at Sidra Medicine where she acts as a Principal Investigator and was appointed as the Director of the Maternal and Child Health Department in July 2019.
A woman's health at conception and during pregnancy impacts the wellbeing of her child. Sidra Medicine's Maternal and Child Health (MCH) department aims to improve women's and children's health by implementing state-of-the-art clinical and translational research. This department focuses on two of the seven priority populations described in the Qatar National Health Strategy. In collaboration with the Obstetrics and Pediatrics clinics, the MCH department aims to address major health problems facing women trying to become pregnant, pregnant women, their growing fetus, infants and children up to two years old.
The goal of the department is to employ a systems biology approach by combining various omics tools (metagenomics, metatranscriptomics, proteomics, metabolomics, etc.) and non-omics tools such as dietary and lifestyle assessment in order to achieve an integrative view of health and identify signatures associated with disease.
The Maternal and Child Health department focuses on the following areas:
Pre-conception health
Prenatal health: healthy pregnancy leading to healthy babies
Identify novel biomarkers to predict pregnancy complications
Maternal Mental Health
Maternal Immune State and its impact on the Child's Health and Development.
Baby's health: the first 1000 days