Cancer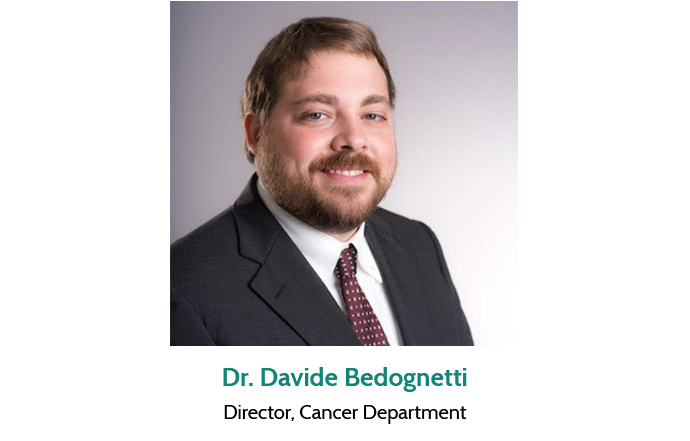 Davide Bedognetti, is the Director of Cancer department at the Sidra Medicine. He received his MD and PhD in Clinical and Experimental Oncology and Hematology from the University of Genoa, Italy. After obtaining the Board Certification in Medical Oncology by the University of Genova and Italian National Cancer Institute (IST), he joined the Infectious Disease and Immunogenetics Section (IDIS) of the US National Institutes of Health (NIH) where he completed his post-doctoral fellowship. He has also served as Director of the Federation of Clinical Immunology Societies (FOCIS) Center of Excellence at NIH Clinical Center. Dr. Bedognetti is member of the Society for Immunotherapy of Cancer (SITC) Cancer Immune Responsiveness Taskforce, and the FOCIS Centers of Excellence Steering Committee.
Cancer is the leading cause of death by disease in children and adolescents and the second leading cause of death in adults globally. The implementation of personalized therapeutic strategies is hindered by the incomplete knowledge of the molecular mechanisms driving heterogenous types of cancer in different individuals. Cancer immunotherapy is revolutionizing the way patients are treated but only a minority of patients respond to such as a treatment.
The Cancer Research department aims to characterize each patient and his/her tumor at the deepest level of complexity to define hierarchically relevant alterations that can be targeted by specific approaches.
Conceptually, the department can be divided in two parallel, yet complimentary, tracks: Discovery and Clinical implementation:
The Discovery track:
The department aims to address the key questions related to precision medicine in cancer patients, with an emphasis on cancer immunotherapy. In essence, it aims to understand the molecular mechanisms associated with neoplastic development, treatment resistance, and treatment toxicity, and to perform pre-clinical, proof-of-principle studies on novel therapeutic approaches.
These findings might be used to refine stratification systems, therefore allowing personalized treatments, and to implement novel therapeutic approaches in both adult and pediatric settings. Samples used for discovery purposes come from Sidra Medicine and from collaborative local and foreign institutions or consortia.
The Clinical Implementation track:
The Clinical Implementation track is expected to put into practice the concept of precision medicine in pediatric cancer patients treated at Sidra Medicine in addition to also implementing - in the clinical setting - the findings generated by the Discovery component. Activities of the department will be complemented with orthogonal support such as the Human Genetics, Immunology and Maternal and Child Health departments.