QF entity research will be instrumental in development of new versions of the vaccine as well as aid in treatment of patients with severe COVID-19
19 February 2023, Doha, Qatar – A consortium of researchers, lead by Sidra Medicine (a member of Qatar Foundation), have published a ground-breaking study that illustrates the actions of COVID-19 mRNA vaccines and identifies the molecular mechanisms that can predict the severity of the disease. The findings will be instrumental in the development of new versions of the vaccine as well as aid in the treatment of patients with severe symptoms of SARS-COV-2.
mRNA vaccines have become central in controlling COVID-19 worldwide, yet relatively little is known about the immune responses it elicits. The Sidra Medicine study employed cutting-edge technology and approaches to better understand the response to the vaccines. It also highlights significant differences between the first and second doses of vaccines, which have been administered to billions worldwide.
The study, High temporal resolution profiling following the first and second doses of COVID-19 mRNA vaccines, has been published in the prestigious journal Science Advances. It was done in collaboration with Hamad Medical Corporation (HMC), Qatar University and international partners PREDICT-19 and the University of Genoa in Italy.
The study highlights a novel technique that can assess hundreds of various immunological pathways and antibodies (using a custom-made serological assay) with just a small amount of blood. The process can be done at home with a finger stick, similar to how diabetic patients test blood sugar levels.
Using RNA sequencing, the team monitored genome-wide responses to approximately 20,000 genes over ten days, around the first and second doses of mRNA vaccines. With this technique, they monitored daily the immune response in subjects who received the mRNA COVID-19 vaccine at Sidra Medicine and compared it with that of patients with various levels of COVID-19 disease severity enrolled in Intensive Care Units at HMC and other institutions in Italy (PREDICT19 Consortium). Overall, more than 600 samples were analyzed.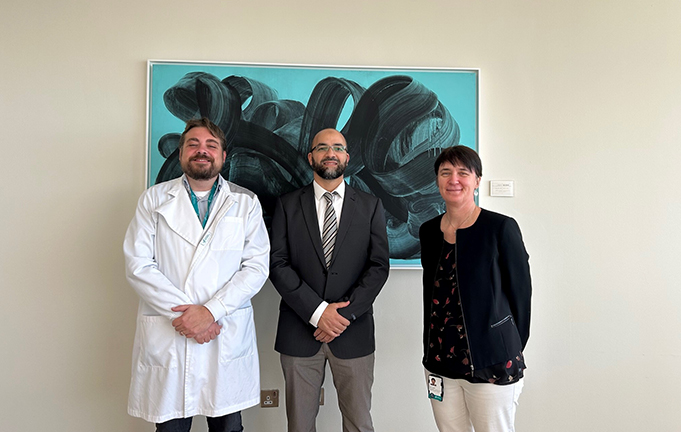 Dr. Davide Bedognetti, A/Executive Director of Translational Medicine, and co-senior author of the study said: "The scientific community is still working to address some big questions about COVID-19 particularly related to the vaccine as well as the varying symptoms experienced by those affected by the disease. Previous approaches based on weekly or monthly monitoring do not accurately capture the intricate changes in the immune system's response. Our research demonstrates the advantages of using frequent sampling techniques to better understand the immune response triggered by vaccines. We hope that it will be instrumental in transforming the way immune responses can be tracked and analyzed in real time."
The team found several differences in the strength and type of immune response elicited after the first or second dose of vaccine. For instance, a strong interferon response was detected just one day after the second dose of vaccine, but it was weaker after the first dose. Remarkably, a type of interferon response not seen in response to vaccines, was associated with COVID-19 severity and prolonged duration of intensive care and hospital stays.
By gaining a more comprehensive understanding of the mechanisms of COVID-19 vaccines, researchers hope to be able to develop more effective and safer vaccines and to identify strategies for treating and possibly preventing severe COVID-19 infections.
Dr. Khalid Fakhro, Chief Research Officer at Sidra Medicine said: "Sidra Medicine is committed to publishing high quality research that advances precision medicine in Qatar and the rest of the world. This study extends our team's impressive track record of contributing to over 100 COVID-19 studies globally, and demonstrates our expertise in publishing high impact papers that move the needle in our understanding of the human body's dynamic immune response to mRNA vaccines, using tools that our scientists built in-house."
Dr. Ali Ait Hssain, Senior Consultant Intensivist, and lead Investigator at HMC said: "I am pleased that HMC partnered with Sidra Medicine in this study, as it highlights the extended role of Qatar's healthcare network in addressing key challenges related to tackling COVID-19. The findings of the study are extremely important as they offer the opportunity to identify patients that might require tailored or personalized treatments, particularly those with severe symptoms of the disease."
The Sidra Medicine research team, included Dr. Darawan Rinchai and Dr. Sara Deola (co-first authors), and Dr. Davide Bedognetti, Dr. Jean-Charles Grivel, and Dr. Damien Chaussabel (co-senior authors).