30 April 2023, Doha, Qatar – Sidra Medicine, (a member of Qatar Foundation), will be hosting Qatar's first Artificial Intelligence and Medicine Symposium from 11-13 May 2023.
The symposium, "Artificial Intelligence and Medicine – bringing digital breakthroughs to the bedside", is a joint collaboration between Sidra Medicine; Texas A&M – Qatar and Qatar University.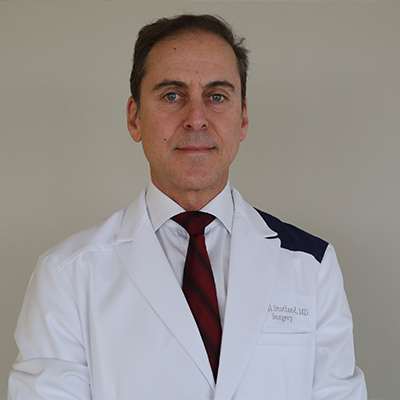 Dr. Mitch Stotland, Symposium Chair and Vice Chair of the Department of Surgery at Sidra Medicine said: "Sidra Medicine is committed to improving health outcomes and adapting to new technologies that positively impact clinical decision making, analysis and research. The forthcoming AI and Medicine symposium will be a fantastic platform for those in the clinical, research and computer sciences community, whose work intersects healthcare and AI, to jointly share in their experiences and challenges. We are honoured to welcome some of the world's top thought leaders as well as local-based research experts. There is much to learn from each other, and much to consider in how we prepare for future digital breakthroughs in machine learning. We hope that this will the first of many research collaborations that will change the face of AI in medicine for the benefit of patients and the wider community."
International keynote speakers at the event include Daniyal Stoyanov, Professor of Robot Vision in UCL Computer Science (UK); Roozbeh Jafari, Professor of Biomedical, Electrical and Computer Engineering and Computer Science, Texas A&M University (USA); Moncef Gabbouj, Professor of Information Technology, Tampere University (Finland); Alejandro Frangi, Diamond Jubilee Chair of Computational Medicine and RAEng Chair in Emerging Technologies, University of Leeds (UK); and Bart de Witte, Founder and CEO of the Hippo AI Foundation (Germany).
A pre-symposium workshop on the 'Basics of AI for Healthcare Workers' will be part of the agenda as well as sessions covering a broad range of topics such as the use of AI in computer-assisted surgical systems and data management across large health systems within a healthcare context. Other hot topics include precision medicine applications for patients with certain diseases as well as new developments in health-related AI in wearable devices. There will also be a panel discussion on ethics, moderated by Ms. Maleen Saeed, from Al Jazeera Media Network.
To register and for more details, please visit www.sidra.org.