QF Entity Research Published in New England Journal of Medicine
Doha, Qatar, 20 June, 2023 – A groundbreaking case study on monogenic obesity by the Endocrinology Department at Sidra Medicine, a member of Qatar Foundation, has been published in the prestigious New England Journal of Medicine.

Monogenic obesity is a rare, early-onset, and severe form of obesity resulting from a mutation or deficiency of a single gene. It is caused by changes in the leptin, a hormone the body releases that helps it maintain your normal weight. Children affected by monogenic obesity generally experience delayed pubertal development, and recurrent severe infections. They often show a decreased sensation of satiety in early childhood and suffer from a constant feeling of hunger.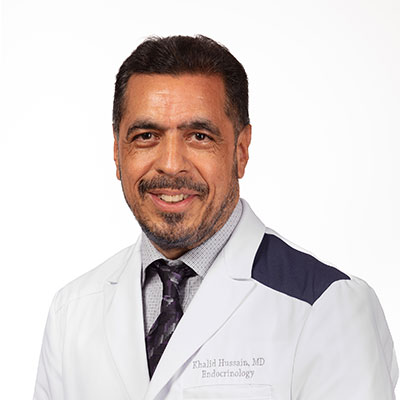 The study was led by Prof. Khalid Hussain, Division Chief of Endocrinology at Sidra Medicine and Professor of Clinical Pediatrics at Weill Cornell Medicine-Qatar, in collaboration with the German Research Foundation (DFG).

Prof. Hussain and his team from the Obesity Clinic at the hospital, were presented with a young child, aged 19 months, with severe obesity; the signs of which began at just three months of age. Patients with monogenic obesity typically lack leptin and respond well to leptin replacement therapy. However, the patient exhibited high levels of circulating leptin in her blood, but was resistant to treatment, indicating an issue with the signaling mechanism.
"Over the period of 18 months, we discovered that by markedly increasing the dose of leptin by nearly 50 percent we could successfully overcome the effects of the antagonist leptin and reduce her weight to a normal, healthy level," said Prof. Hussain.
Across the MENA region, the rate of childhood obesity is increasing. According to UNICEF, 5.4 million children are overweight, up from 3.4 million in 2000, placing the Middle East and North Africa second in the world for overweight children.

Previous studies published on monogenic obesity were conducted on patients in Europe or North America, but research on the local or regional population was lacking, according to Prof. Hussain: "This is the first study from the MENA region to published on monogenic obesity and we hope it can provide insights into what is triggering the problem and what might help reverse it. Our research indicates there may be other children with this genetic disorder that are undiagnosed, and that measuring leptin levels can provide the key to understanding some genetic malfunctions or deficiencies. Childhood obesity is a challenging clinical condition, and our research can help drive new discoveries and new treatments, not just in young people, but for adults as well, which will have implications for public health in Qatar and worldwide."
By tracing the family history of the patient, the team at Sidra Medicine were also able to identify the same condition in two of the patient's aunts. The family members are currently under treatment at Hamad Medical Corporation, and have shown remarkable progress, underscoring the importance of genetics in understanding and solving complex medical cases.