24 May 2023, Doha, Qatar – Sidra Medicine, (a member of Qatar Foundation), has achieved accreditation for five new pediatric programs by the Accreditation Council for Graduate Medical Education International (ACGME-I).
The new programs include urology; critical care; emergency medicine; gastroenterology and infectious diseases. This brings the total of ACGME-I accredited residency and clinical fellowship programs at the healthcare organization, to thirteen.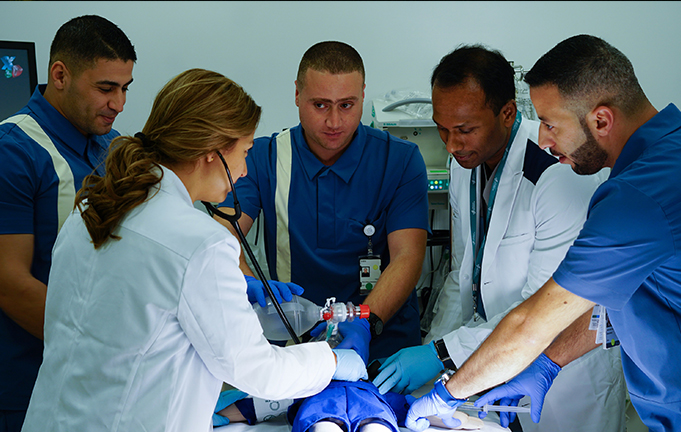 Prof. Ibrahim Al Janahi, Chair of Medical Education at Sidra Medicine said: "This is a fantastic achievement for Sidra Medicine, as it demonstrates the high caliber of our residency and fellowship programs. The programs, which are based on a globally recognized international standard such as the ACGME-I, are part of our strategy to offer trainees top quality medical education. We currently have 96 residents as part of our pediatric residency program and 63 fellows in our clinical fellowship programs. We remain committed to expanding our academic credibility as a premier teaching hospital in the region."
The ACGME-I is a body directly aligned with ACGME, the international best practice standard that accredits the majority of graduate medical training programs for doctors in the United States. The accreditation demonstrates that Sidra Medicine's graduate medical education programs have met ACGME-I's established standards for institutional, foundational, and advanced specialty education.
The thirteen accredited ACGME-I pediatric programs currently available at Sidra Medicine are: cardiology; nephrology; neurology; pulmonology; general surgery; emergency medicine; infectious diseases, gastroenterology; critical care; neonatology; child and adolescent psychiatry; urology; radiology.
For additional information about Sidra Medicine's Medical Education programs and to apply for a fellowship or residency program, please visit: Sidra Medicine Awarded new ACGME-I accreditations in pediatric specialties | Sidra Medicine.