Alexandra shares her experience and the life-changing diagnosis that allowed her to conceive and see through a safe pregnancy at Sidra Medicine.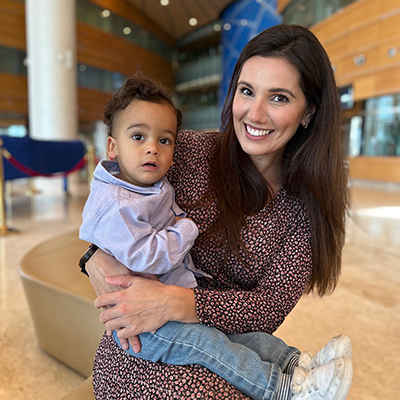 "Fertility, pregnancy, and maternity are such vulnerable experiences to go through as a woman and as a couple. And my husband and I felt incredibly lucky to have been supported throughout this journey with the amazing team at Sidra Medicine. Every service and clinical encounter at the hospital was backed by people who are experts in their field and compassionate in their care. There was a team of people who looked at and discussing our case including my health and that of our baby's. This made it very unique for us.
Our initial consultation started with the reproductive medicine clinic with Dr. Sanjay Prabhu. He supported us as a couple during this delicate process. We really cherished our relationship with him. And it was wonderful that I was able to get pregnant following the first embryo transfer. And what a fantastic team they have. We just knew in our hearts that we made the right decision to choose Sidra Medicine, which was further validated as my pregnancy progressed, under the care of Dr. Ashok Kumar and Prof. Karim Kalache.
While undergoing my maternal fetal check-ups, Prof. Kalache found that I had Vasa Previa, which is a serious and rare pregnancy related complication. Without his intervention, care and guidance, it would have been a very different story and I almost get emotional thinking about what could have happened if this wasn't detected. What was reassuring was to see how the maternal fetal medicine team worked with Dr. Ashok to ensure that I was able to have a safe delivery at 35 weeks. It really highlighted how thorough and experienced the team was – not only with diagnosing the condition and then backing it up with customised care.
Each department, whether it was the technology they used, the words of comfort they provided, earned our trust. Sometimes it's the small details, for example, a simple thing like using heated gel for the ultrasound, just elevated the experience. Being from Europe we also appreciated the more westernized approach to matters such as the birth plan.
When you combine the top doctors in the field, latest technology, personal care and welcoming modern facilities, Sidra Medicine really provided the best experience possible throughout our care journey."