QF Entity highlights expertise in caring for children experiencing complex breathing and swallowing issues
6 September 2023, Doha, Qatar – Surgeons at Sidra Medicine (a member of Qatar Foundation) performed multiple life-saving procedures on a baby experiencing complications with breathing and swallowing due to a small larynx and large cysts in her tongue and throat.
Baby Thinnara's parents sought the help of Sidra Medicine's Children's Emergency Department and specialist Otolaryngology clinic to address their child's breathing and swallowing issues.
"Watching your baby unable to swallow and look malnourished, is heartbreaking. We felt so helpless seeing her struggle and I was getting desperate to find out what was wrong, as my beautiful little girl was losing weight and in obvious distress. We were at our wits end until we finally came to Sidra Medicine," said Thinnara's mother.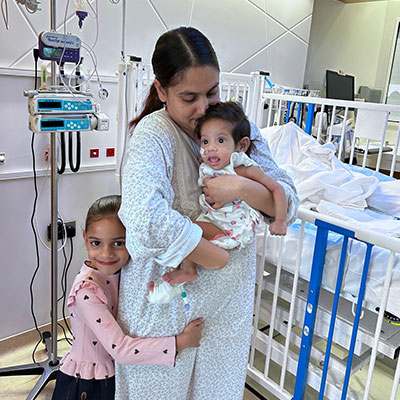 Dr. Faisal Abdulkader, Div. Chief of Otolaryngology and Audiology at Sidra Medicine, said: "When Thinnara came to our Children's Emergency Department, we immediately saw that she had stridor, a common breathing issue as a result of a blocked upper airway as well as severe laryngomalacia. Laryngomalacia is a congenital softening of the tissues of the larynx (above the vocal cords), which causes the tissues to block the airway opening."
"Thinnara also had a mass under her tongue, which was making it difficult to breathe and latch on for breast or bottle feeding and as a result, she had a feeding tube that was inserted by a different hospital, to help her with nasogastric feeding."
The emergency team then referred her to the Otolaryngology clinic for further testing and diagnostics.
"When we conducted a more thorough assessment including diagnostic imaging on Thinnara, we found a large cystic mass in her throat, which had almost completely replaced her tongue. She also had a small larynx (voice box). All of this was quite concerning as it was causing her failure to thrive. Her case was rare because of the magnitude of complications and the multiple procedures that needed to be done," continued Dr. Abdulkader.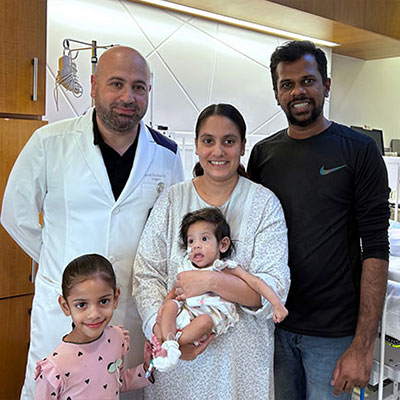 Taking a multidisciplinary approach to Thinnara's treatment, the team at Sidra Medicine immediately set about performing the complex surgical procedures to remove the cysts and widen her larynx.
"Time was of the essence, which is why we arranged for immediate surgery while she was still intubated from her MRI scan. One of the biggest challenges we had to overcome was to secure her airway during anesthesia – because it was severely blocked. Over the course of almost one full day, we conducted the procedures to remove the mass under her tongue, the cyst in her throat and performed supraglottoplasty to widen her larynx. Quite a lot for a baby who is only a few months old! What a warrior Thinnara is!"
Following her surgery, and thanks to the specialty care provided by an entire team in the pediatric intensive care unit which was supported by speech, language and respiratory therapy, dietary and nutritional services, Thinnara was discharged within a week.
"We are overwhelmed with gratitude and love for the wonderful care not only my daughter received, but how we were taken care of as a family. Just a few days after the surgery, we saw her smile! Everyone has been exceptional – and we particularly want to thank Dr. Faisal Abdelkader, who went above and beyond to help Thinnara. And special mention to the wonderful team of nurses and child life specialists. What a relief and assurance it is to have such a hospital. We are all breathing a lot easier now!"
For more details about Sidra Medicine's ENT and Otolaryngology department, please visit www.sidra.org.