QF Entity Appointed as Lead Treatment Center in MENA to administer life-saving SMA drug for babies
14 September 2022, Doha, Qatar – The Genetics and Genomic division at Sidra Medicine has launched several programs to offer life-saving genetic treatment and therapies for patients of all ages. The programs provide comprehensive genetic services including clinical evaluation and risk assessment; genetic counselling; diagnosis and the advanced management for a variety of genetic disorders.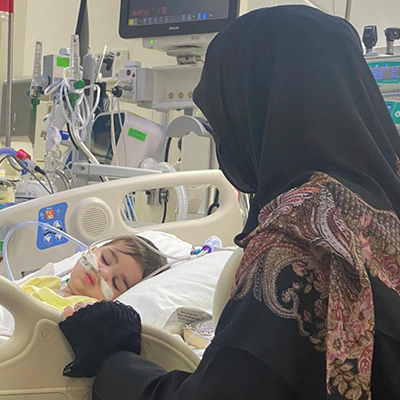 Dr. Tawfeg Ben-Omran, the Division Chief of Genetics and Genomic Medicine at Sidra Medicine said: "Genomic and genetic medicine is the critical bind that connects patients with genetic conditions to access therapies and resources that are personalized to treat their condition. It plays an important role in determining the risks of developing certain genetic diseases as well as screening and treatment. Our collaborative and multidisciplinary work entails the diagnosis, treatment, prevention and research in genetic and genomic medicine with respect to precision medicine."
One of the key gene therapy programs established at Sidra Medicine, in partnership with the pediatric Neurology Division, is the treatment of children with Spinal Muscular Atrophy (SMA). SMA is a neuromuscular disorder and a common fatal inherited disease resulting from a genetic mutation. If not treated in time, it can lead to severe morbidity and early death.
Children with SMA are cared for by a multidisciplinary team featuring physicians and nurses from clinical genetics and neurology and supported by rehabilitation therapies (including physiotherapy, occupational and speech therapy) and pharmacy services. In fact, Qatar is the only country in the region that was included in a clinical trial to evaluate the safety and effectiveness of a novel gene therapy to treat babies with SMA.
Following detailed published clinical findings by the SMA team at Sidra Medicine and Hamad Medical Corporation, Sidra Medicine was appointed as the lead treatment center in the Middle East and North Africa (MENA) region to administer Zolgensma, a lifesaving drug for treating SMA. The Novartis Gene Therapies "Managed Access Program" works with select partner hospitals to offer gene therapies to babies suffering from rare and life threatening neurological genetic diseases and who are from countries where treatment and medications are not available.
Dr. Khaled Omer Ibrahim and Dr. Mahmoud Fawzi, Senior Attending Physicians at Sidra Medicine and the lead neurologists in the SMA management Team said "Thanks to the collaboration with the Ministry of Public Health and Hamad Medical Corporation and Sidra Medicine, Qatar has positioned itself as one of the few countries in the region to offer pioneering and life-saving genetic therapies for SMA patients of all ages. Not only have we saved the lives of several patients in Qatar, in fact, because of Sidra Medicine's selection by Novartis as a MENA treatment center for administering the novel SMA medication, we are now welcoming patients from Iraq, Iran, Egypt and North Africa, as the therapy is not available in their countries."
A patient family from Iraq, who recently flew to Qatar to receive gene therapy for their young child, said: "One day, what you thought was impossible will come true. One day, your dream will become a reality. The most important thing is don't give up hope. Trust in God that He will give you more than you wished for. When our child was diagnosed with SMA, we felt that our world had turned upside down. We did a lot of research and were relieved when our child was chosen to get the life-saving gene therapy in Qatar. My dream came true at Sidra Medicine, one of the most wonderful hospitals with an amazing team of medical staff. I thank them for our wonderful experience."
Dr. Tawfeg concluded: "Sidra Medicine has taken great strides across the clinical and research spectrum and we are proud to add gene therapy as an effective treatment strategy for several genetic diseases, particularly like SMA. The feedback from the patient families regarding our program has been heartwarming and inspiring. We are currently in the process of implementing preventative SMA measures in collaboration with Qatar's Premarital Genetic Screening and Expanded Metabolic Newborn Screening Programs. We look forward to continuing this journey of healthcare innovation and excellence to benefit patients from everywhere."