QF entity clinic treats children with mobility issues stemming from Cerebral Palsy and Dystonia
18 January 2021, Doha, Qatar – Sidra Medicine has established Qatar's first pediatric focused Movement Disorders Clinic.
The clinic helps address problems such as spasticity (uncontrollable muscle stiffness) and dystonia (involuntary, abnormal jerking or twisting movements) in children and young people who have not responded to medications and therapy and who may benefit from state-of-the-art surgical interventions available at Sidra Medicine.
The Movement Disorders Clinic is staffed by a team of specialists from rehabilitation medicine, physical and occupational therapy, neurology, and neurosurgery. The most common diagnosis seen at the clinic are children with Cerebral Palsy, a brain disorder that interferes with the way that the brain communicates with the body and causes difficulty with movement.
Commenting on the care provided by the Movement Disorders Clinic, Dr. Lisa Thornton, Division Chief of Rehabilitation Medicine at Sidra Medicine said: "Sidra Medicine is one of the very few hospitals in the world with the specialist expertise to offer comprehensive care for children with Cerebral Palsy or Dystonia, including neurosurgery, neurology, inpatient and outpatient rehabilitation and orthopedic surgery. While these brain conditions are incurable, our combined effort is to ensure that we are improving the quality of life for the patients and their families."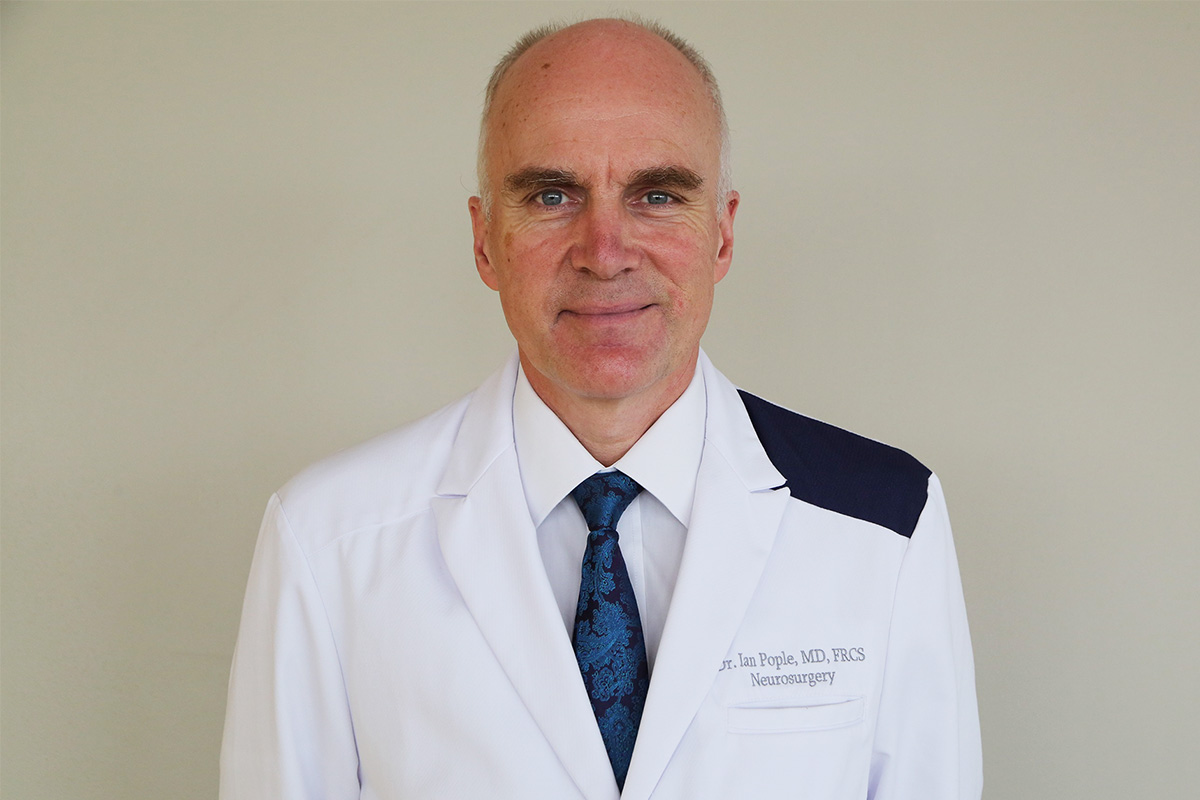 Dr. Ian Pople, Division Chief of Neurosurgery at Sidra Medicine said: "Our first case at the Movement Disorders Clinic was eight year old Aiden, who underwent a Selective Dorsal Rhizotomy (SDR) procedure to help address his spasticity. The nerves causing the most stiffness were cut during this unique surgery. SDR has been shown to reduce the number of additional orthopedic surgeries needed over the course of a child's life. In most cases, spasticity doesn't return," continued Dr. Pople.
The SDR performed on Aiden at Sidra Medicine, was highly specialized and is considered possibly the first of its type in the region for the improvement of mobility in a pediatric patient with Cerebral Palsy.
Aiden's journey of care at Sidra Medicine
Eight year old Aiden has cerebral palsy (CP) and visual impairments. His CP causes spasticity that leads to leg stiffness and interferes with his ability to walk, causing him to use a wheelchair for mobility.
Aiden's parents sought to find the best care possible for their son, and tried a number of different therapies including stem cell therapy in the USA, before seeking a treatment program at Sidra Medicine in 2017.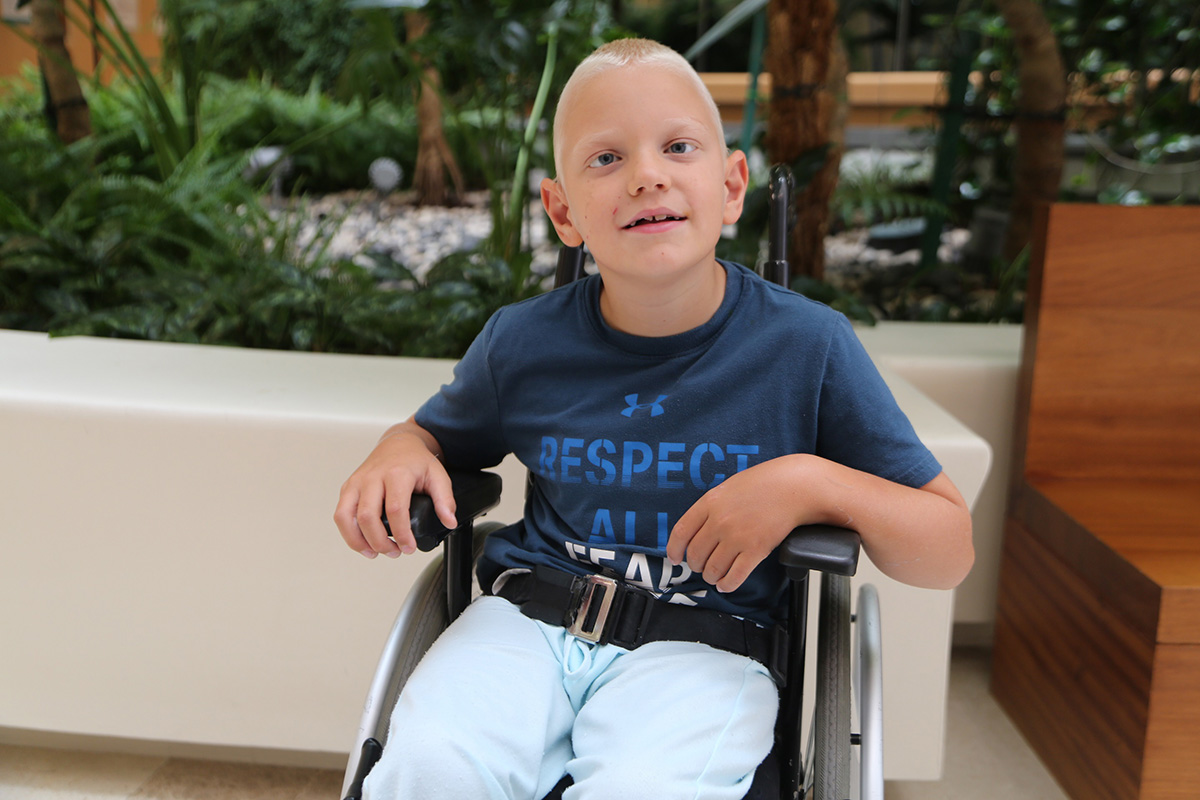 Aiden was referred to Sidra Medicine's Rehabilitation Medicine department to help with his spasticity issues. After consultation with experts at the Movement Disorders Clinic, it was decided that he would benefit from a surgery called Selective Dorsal Rhizotomy (SDR). The goals of the surgery were to make it easier for him to move, so that he could walk in his home with a walker.
SDR is a spinal surgery usually performed on children with spastic Cerebral Palsy, especially those who have not responded to therapy and medications. SDR can improve mobility, reduce pain and relieve lower limb spasticity. SDR is a highly specialized neurosurgical procedure that is offered by only a handful of pediatric hospitals worldwide and very few surgeons are trained in the technique.
Aiden's parents said: "Our goal has always been to ensure that Aiden receives the best possible care. We have researched and traveled extensively always keeping up to date on the latest procedures so that Aiden can achieve some level of independence despite his cerebral palsy. Imagine our relief when we found out that one of the foremost neurosurgeons, Dr. Ian Pople, who specializes in selective dorsal rhizotomy, was based here in Doha!"
To prepare for the surgery, Aiden's pre-operative function was carefully reviewed by the team at the Movement Disorders Clinic, including therapists who determined his potential for improvement and discussed the post-operative therapy plan with the parents. His case was also reviewed by the clinic's neurophysiologists and neurologists to identify the nerves in the lower part of his spinal cord that were causing the spasticity issues in his legs.
Dr. Ian Pople, Division Chief of Neurosurgery at Sidra Medicine said: "Timing was critical regarding the selective dorsal rhizotomy procedure on Aiden. It was important that Aiden would be able to withstand undergoing such a complex surgery and it took three years before we felt confident that he was ready. The clinical team felt that Aiden was a prime candidate for the procedure where certain nerves would be cut to permanently reduce the spasticity in his legs."
Aiden's surgery was performed in Sidra Medicine's state-of-the-art neurosurgery operating room. The surgery took six hours and involved a team of two surgeons, a neurologist and two neurophysiologists who monitored Aiden's spinal cord function during the surgery. Together they determined which nerves were causing the most spasticity and carefully sectioned those sensory nerves to reduce the spasticity in his legs.
After the surgery, Aiden stayed at Sidra Medicine for nearly three weeks to begin rigorous rehabilitation that he will continue as an outpatient for up to one year. His parents are also committed to helping him perform a home-based, daily therapy program. Following his intensive post-operative care, Aiden's parents have seen easier movements in his legs, with his strength improving by the day.
Dr. Lisa Thornton, Division Chief of Rehabilitative Medicine at Sidra Medicine said: "Our clinic sought to customise Aiden's care and treatment program and we are very happy with his progress. When SDR is followed by months of rehabilitation, it can improve a child's ability to move and control their muscles. Following his surgery and while undergoing therapy, Aiden is now able to support his own weight aided by a walker. This is a significant milestone. Through further physiotherapy and rehabilitation, we expect to see more improvement in his mobility and strength."
Aiden will always have Cerebral Palsy and will need a walker to help support him, however after the SDR surgery at Sidra Medicine his spasticity is gone and it is now easier for him to move. His SDR surgery is considered the first of its type in the region for the improvement of mobility in a pediatric patient with Cerebral Palsy.
Aiden's parents said: "We are immensely grateful for the care at Sidra Medicine which was absolutely first class. From day one, everyone we encountered from the nurses, to the patient care partners, therapists and physicians have been lovely. Seeing the progress Aiden continues to make is empowering. The day he stood aided by a walker was a day that changed all of our lives. It gave us hope that we made the right decision and each day is a day of hope and inspiration as we work together with the team at Sidra Medicine to help Aiden build his strength. Thank you!"
For more details please visit: https://www.sidra.org/clinics-services/childrens-and-young-people/rehabilitation-medicine.