Under the umbrella of Qatar Foundation, Sidra Medicine brings together local and global stakeholders to discuss processes to prevent child abuse
15 February 2020, Doha, Qatar- Sidra Medicine, a member of Qatar Foundation, today hosted the opening ceremony of the International Society for the Prevention of Child Abuse and Neglect (ISPCAN) Congress Qatar 2020.
ISPCAN is an international non-profit organization that unites a range of stakeholders to discuss various issues related to child protection, ending violence against children, local child protection action, to name a few. This is the first time the organization holds its congress in Qatar, with Sidra Medicine leading the conversation on child advocacy for children in the country and beyond.
The opening ceremony of ISPCAN Qatar 2020, welcomed over 400 delegates from 35 countries including several high profile decision makers and thought leaders; dignitaries from the government and diplomatic sector as well as public figures. The ceremony was opened by the Chairman of ISPCAN Qatar 2020, Prof. Khalid Al Ansari who is also the Chair of Emergency Medicine and founder of Sidra Medicine's Child Advocacy Program. The program also featured an inspiring talk from Dr. Tufail Muhammed, President of ISPCAN child rights and abuse committee.
ISPCAN Qatar 2020 brought together global experts from an inter-disciplinary panel of professionals including pediatricians, social workers, psychologists, lawyers, mental health professionals, governmental policymakers and agencies that work toward the prevention and treatment of child abuse, neglect, and exploitation across the globe.
The goal of the congress is to provide high-quality, evidence-based updates on various issues related to 'Child Protection' to safeguard children regionally and internationally. It aims to equip multidisciplinary participants with the needed knowledge and skills that would enable them to intervene and prevent, as well as recognize and respond appropriately when they come across child maltreatment.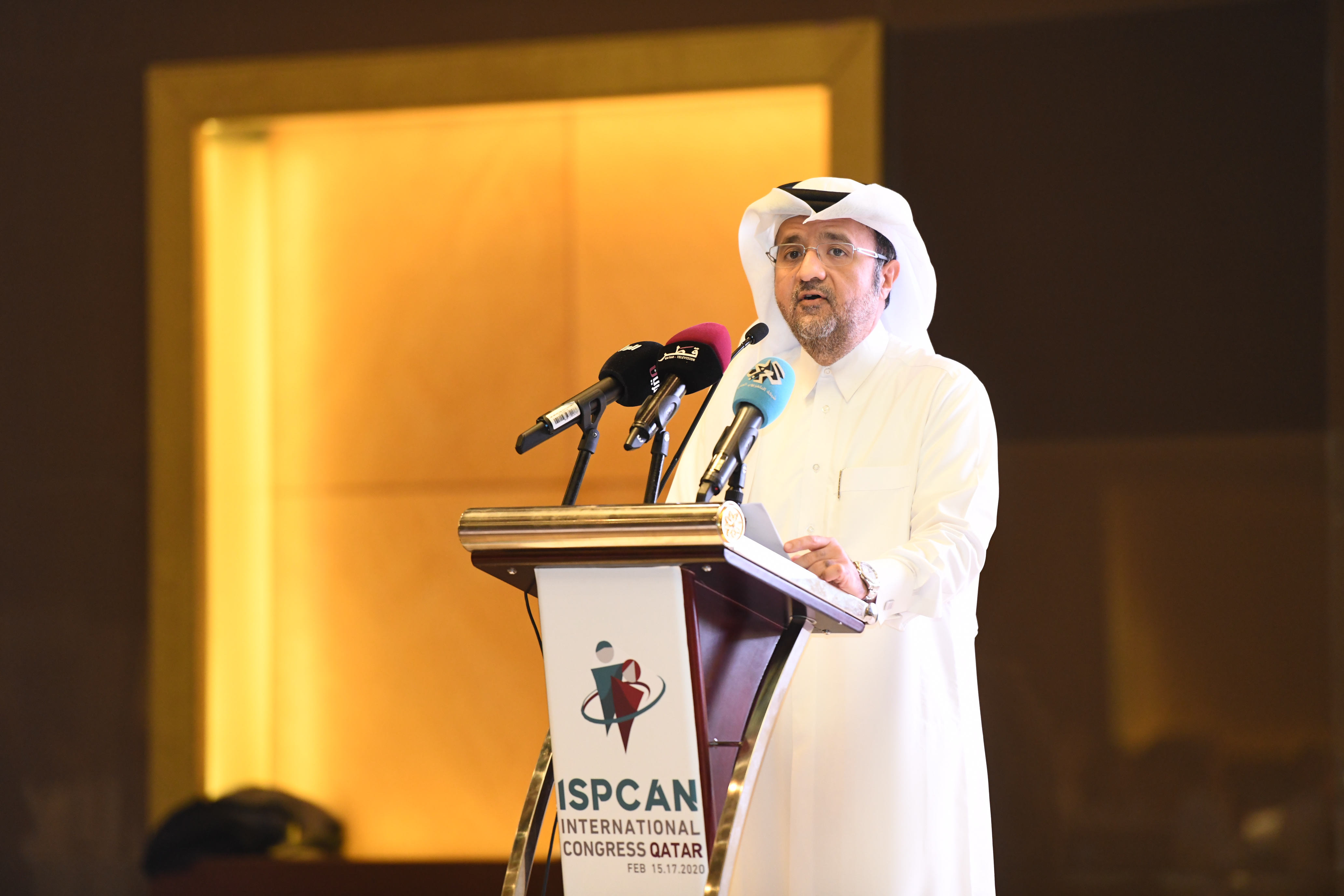 Prof. Khalid Al Ansari - Sidra Medicine
Prof. Khalid Al Ansari, who in addition to his role at Sidra Medicine is also the Chairman of the National Child Protection Committee at the Ministry of Public Health, said: "Child abuse is an alarming issue that requires a collective effort from the community and professionals in our industry to address. It is imperative that we unite in the fight against child abuse and provide a better and safer environment for children. During ISPCAN Qatar 2020, we are committed to exploring approaches and programs, based on scientific knowledge and research, to prevent violence against children."
"I am pleased to see the strong turn out at the congress, which reflects the commitment of the local and global community to ending child abuse. It is a collective effort in ensuring we all work together and also consider extending the right form of care to rehabilitate and reinstate victims of abuse and neglect," Prof. Al Ansari added.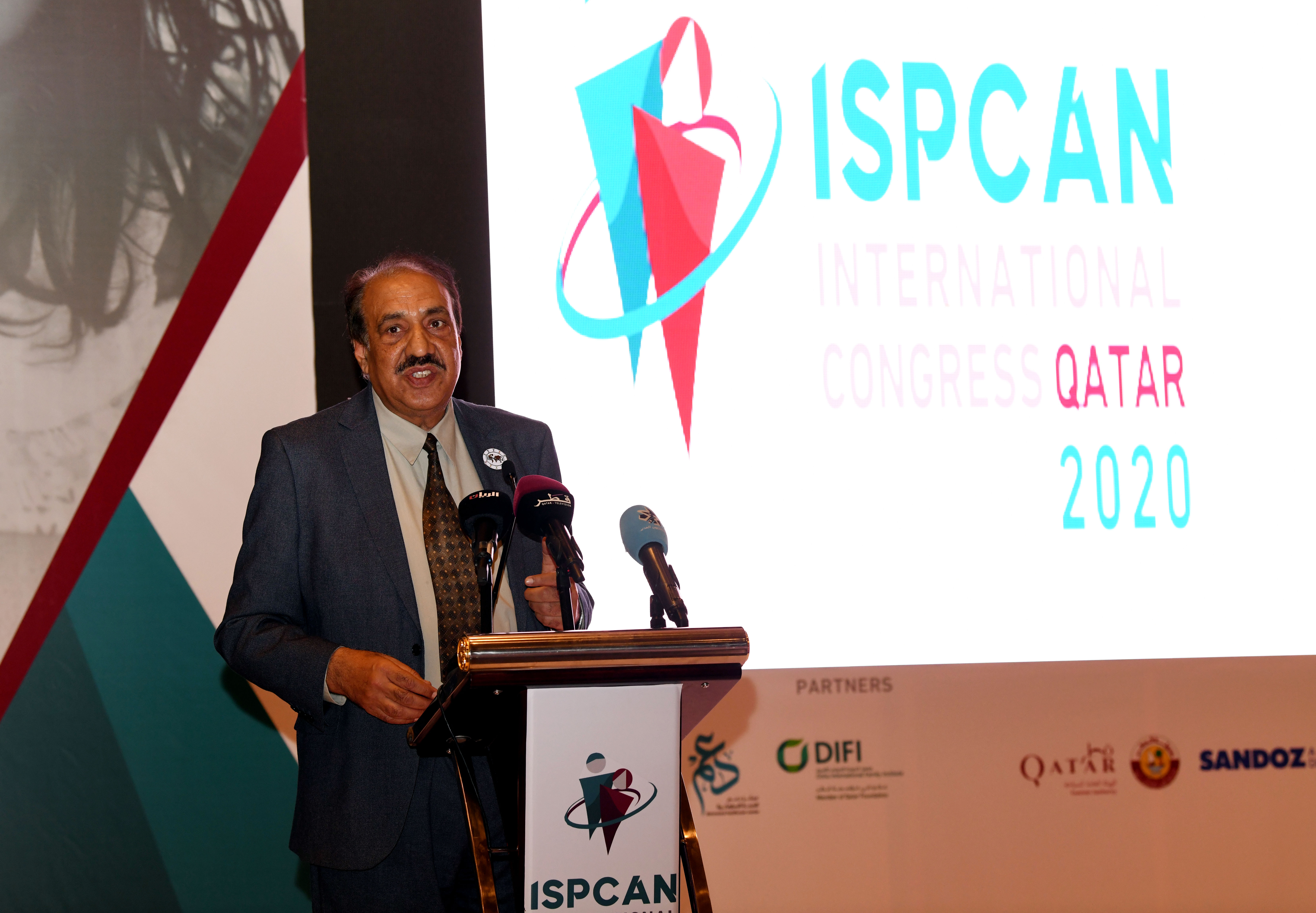 Dr. Tufail Mohammed - President of ISPCAN
Dr. Tufail Mohammad, President of ISPCAN's child rights and abuse committee, said: "Child abuse is a global issue and it is reassuring to see how governments, experts and decision makers from both the public and private sector have joined the Qatar congress. We hope that they have acquired the knowledge necessary to make a difference in their respective countries."
The event featured keynotes by leading experts including Prof. Muthanna Samara, Mr. Anthony MacDonald, Dr. Figen Dagli, Ms., Dr. Khaled Ali, among others. On the first day, guests and speakers attended keynote sessions that included: 'Ending Violence Against Children: Right, Smart and Possible', by Mr. Howard Taylor, Executive Director from Global Partnership to End Violence Against Children; 'Child Protection: Islamic Ethical Perspectives, by Dr. Mohammed Ghaly from Hamad Bin Khalifa university; and 'Protecting Children from abuse exploitation and other forms of violence in the sport environment' by Ms. Mary Harvey the CEO of the International Center for sports and human right.
During the opening event, Prof. Al Ansari also highlighted that Sidra Medicine has succeeded in building a cohesive system in Qatar that is made up of a multi stakeholder structure. "I can, proudly, say that we have a clear national flow of case management that describes the role and responsibility of each stakeholder - for different cases of abuse. We also have a national help line that has serviced around 400 cases a year on average, a registry for child abuse cases, and a national electronic medical record alert to flag cases."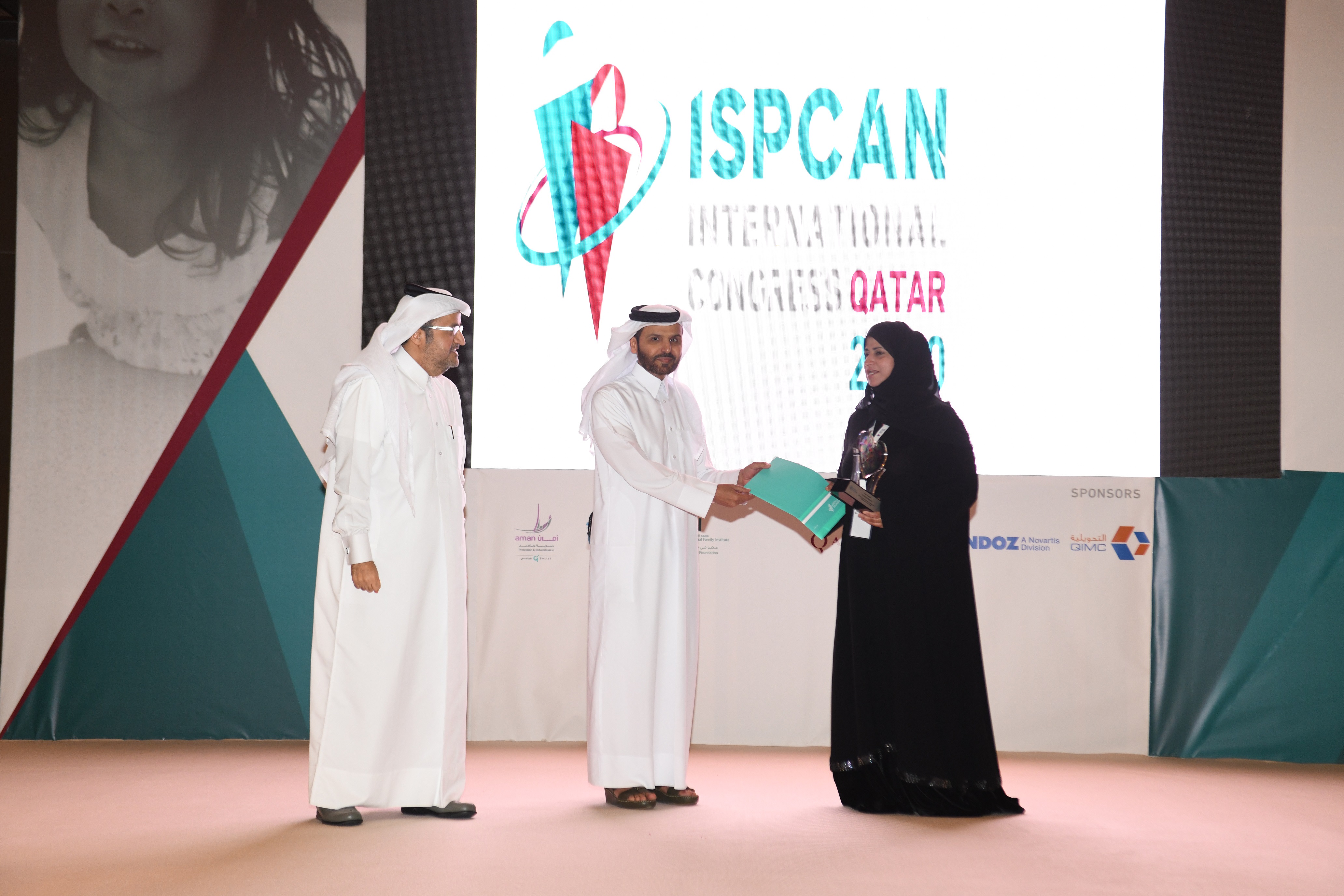 At the ceremony, an honorary award was given by Dr. Salih Ali Al Marri, the Assistant Minister for Health Affairs from the Ministry of Public Health and Prof. Khalid Al Ansari from Sidra Medicine, to Dr. Hamda Al Mohannadi, Psychologist Consultant from the Ministry of Education and Ms. Zamzam Al Hammadi, Senior Patient Care Manager from Sidra Medicine who were recognized for their outstanding work in child protection services in the community.
The ceremony also featured an art exhibition with entries from over 100 children from schools across Qatar. The exhibition was based on the children's understanding of Child Abuse and as a platform to raise awareness on the topic. Three students - Punnya Pramod; Aisha Al Saadi and Mohammed Nasser Al-Dosari - were awarded at the event.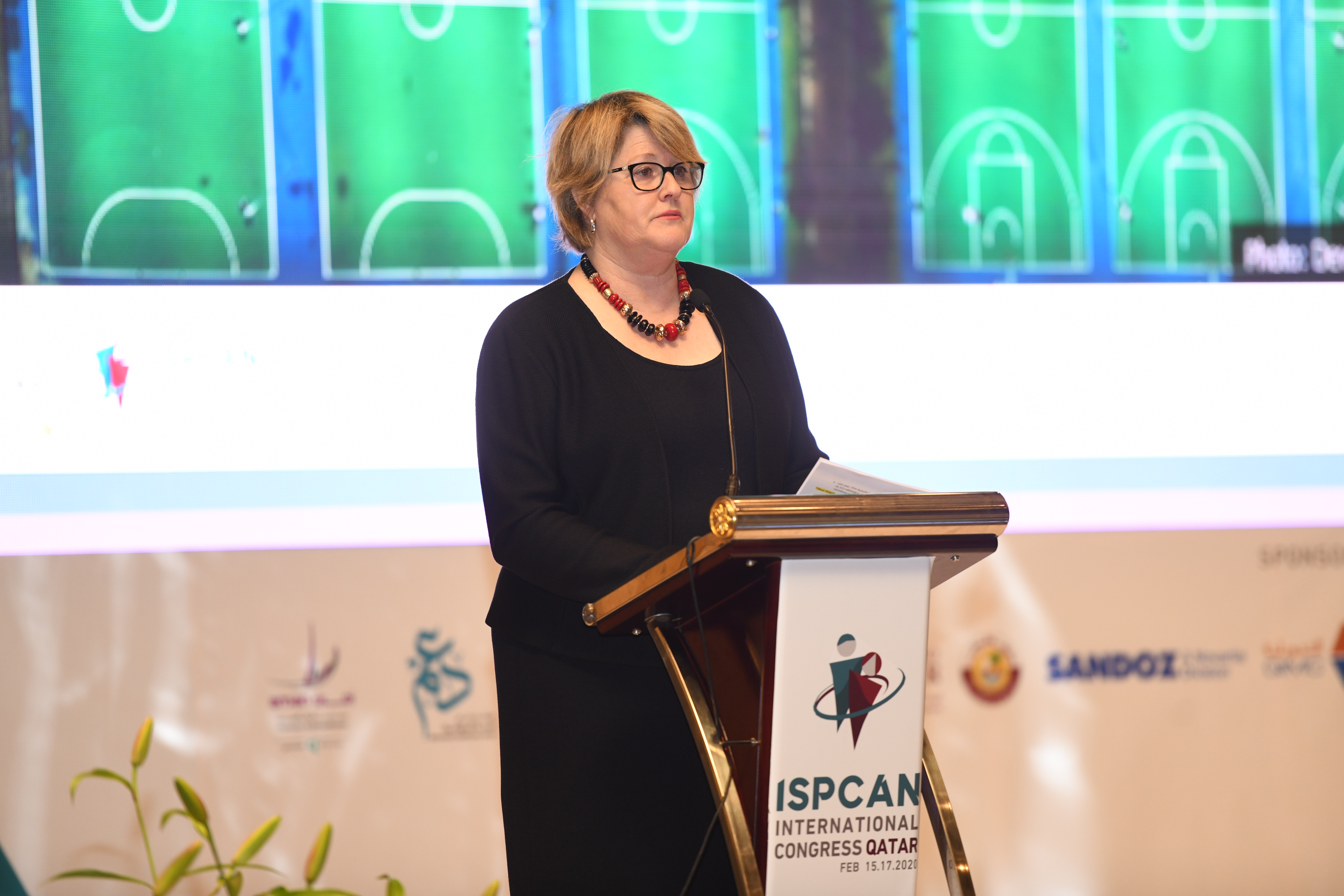 Mary Harvey, CEO of the Center for Sport and Human Rights
During her keynote address, Ms. Mary Harvey, the CEO for the Center for Sport and Human Rights said: "It is our collective duty to ensure that sport fulfils its promise to contribute positively to the development of children. However, we fear that the abuse of children in sport is far more widespread than what has been reported. Children are the most vulnerable of the vulnerable groups we seek to protect. Our goal is to prevent the violations of the rights of children in sport and ensuring access to effective remedies for those harmed."
On day two, the congress will discuss issues around psychological trauma of refugee children and challenges in their rehabilitation as well as methods to reduce violence in schools and education settings. Other topics to be covered include positive parenting in the prevention of child abuse; protecting children with disabilities from maltreatment and violence through a holistic case management approach; and children living with autism in Qatar.
The third day of ISPCAN Qatar 2020 (17 February) will cover topics and discussions related to children with disabilities; corporal punishment in the Arab world; the art of interviewing children in suspected child abuse cases. It will also feature topics related to internet misuse among children and adolescents; youth participation in protecting children's rights; as well as innovative and interactive resources for abuse prevention education.
Read the Arabic release here.
ISPCAN Qatar is organized by Sidra Medicine and is being held at the Grand Hyatt hotel in Doha. The final day of the conference is 17 February 2020.
For more information and registration, please visit: https://www.ispcan.org/qatar2020/
- END-