Sidra Medicine to highlight path to precision medicine for diabetes patients at CUDOS 2019
Doha, Qatar, 18 September 2019: Sidra Medicine will host the third iteration of its symposium CUDOS - Current Understanding on Diabetes, Obesity, and Related Syndromes. The theme for CUDOS 2019 is Innovative Concepts in Modern Diabetes Management – and will highlight the latest and exciting innovations in the treatment and management of diabetes.
A major focus at CUDOS 2019 is how Sidra Medicine is embarking on its journey towards precision medicine in the care and treatment of children and young people with diabetes. It will highlight major findings and success stories of its precision medicine program and the individualized and preventative strategies for improving prognosis and a patient's quality of life.
CUDOS 2019 will be held from 20th to 26th November 2019 in Doha, Qatar. In addition to the main symposium, CUDOS will feature several pre-conference workshops and sessions that will be of interest to students and the public.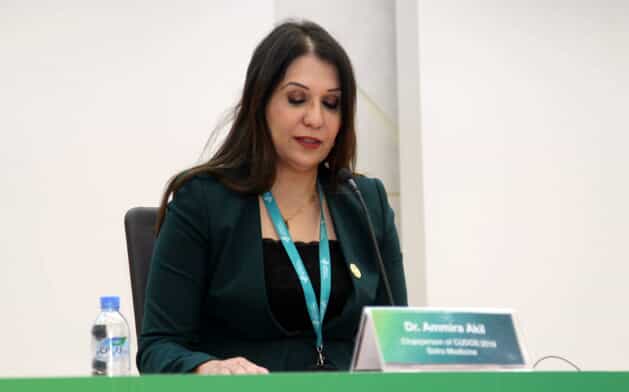 Dr. Ammira Akil speaking at the CUDOS 2019 Press Event
Dr. Ammira-Sarah Akil, Sidra Medicine Principal Investigator, Founder of CUDOS and Chairperson of CUDOS 2019 said: "The CUDOS scientific and educational series is aimed at improving the lives of children and young people with diabetes, obesity and other related diseases. Our goal is to find solutions impacting both treatment and care for various problems associated with diabetes and its complications. We are looking the impact on various age groups, prevention vs early detection with a special focus on childhood diabetes. Thanks to the investment made by the Government of Qatar, Qatar Foundation and the wider healthcare network of partners, we are edging closer to achieving this goal."
"Since launching the CUDOS series three years ago, we have seen the conference go from strength to strength as we gather the best minds and thought leaders in the field. This year has an impressive line-up of joint collaborations including with our partner Hamad Medical Corporation and its entity Qatar Metabolic Institute as well as collaborators such as Qatar Diabetes Association, Qatar Biobank and Portsmouth Hospitals' AGP Clinical Academy. We are also pleased to partner with Qatar Tourism Authority and several other leading sponsor organizations – who are jointly committed to addressing this global health challenge," continued Dr. Akil.
CUDOS 2019 will also feature a special program titled "Our Youth at Risk" jointly organized by Sidra Medicine and the Qatar Metabolic Institute and the National Obesity Centre. The segment will discuss the prevalence and genetic risk of obesity and the available treatment options for adolescents with type 2 diabetes and obesity.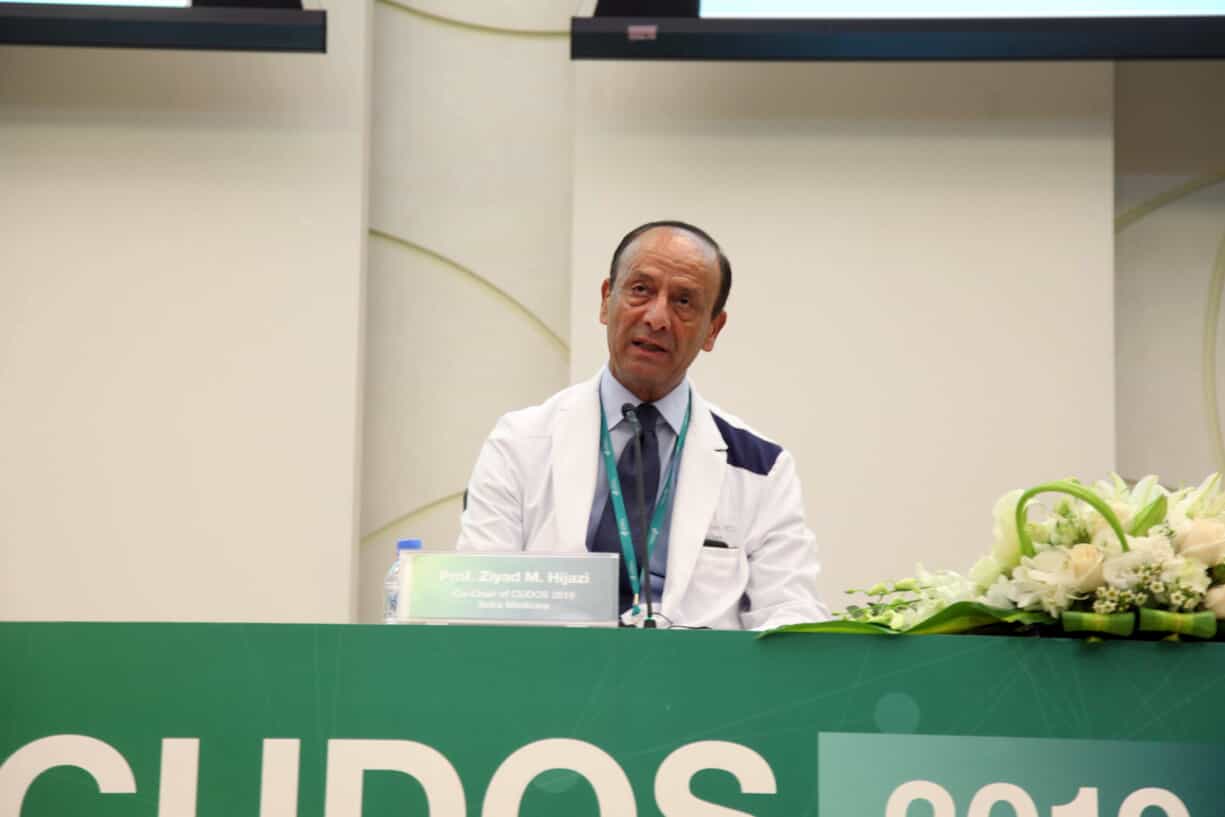 Prof. Ziyad Hijazi at the CUDOS 2019 press event
Prof. Ziyad M. Hijazi, Executive Chair of Pediatric Medicine at Sidra Medicine and Co-Chair of CUDOS 2019 said: "What is exciting about CUDOS 2019 is that we are well on our way to showcasing the active steps we are taking as a health and research organization in linking clinical care with research – and the impact it will have on patients with Diabetes. We have some ground breaking sessions with the Gulf Heart Association to highlight the cardiac risk in diabetic patients in respect to type 1 and type 2 and related pathophysiological mechanisms and features."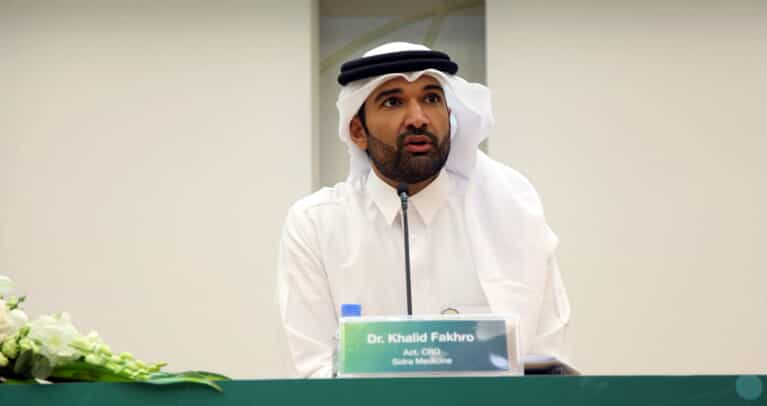 Dr. Khalid Fakhro, Act. CRO speaking at the CUDOS 2019 press event
Dr. Khalid Fakhro, Acting Chief Research Officer at Sidra Medicine said, "As a pediatric academic medical center, Sidra Medicine is uniquely positioned to embed precision medicine into patient care. This can lead to more accurate patient diagnoses and better treatment programs for diseases that affect the local population, like diabetes, obesity and rare disorders. The impact that we hope to create will be far reaching not only for the people of Qatar but across the Middle East region and the world."
On the importance of CUDOS for academic advancement and building a knowledge economy, Dr Fakhro added, "Symposia such as CUDOS are integral to putting the Qatari biomedical and scientific communities on the global healthcare map. We are looking forward to welcoming our colleagues from all corners of the world, to hear about advances in the care and treatment options for patients with diabetes and related disorders, and to share with them the exciting developments that are taking place in Qatar. It is through collaboration and sharing of knowledge and best practices that we can truly transform healthcare."
Key international speakers at CUDOS 2019 include Prof. Juliana Chan, from the Chinese University of Hong Kong; Prof. Roger Mazze from the International Diabetes Center in the USA; Prof. Jorma Toppari from the University of Torku, Finland; Prof. Aaron Kowalski from JDRF International, USA; Prof. Sadaf Farooqi, from the University of Cambridge, UK; Prof. Thomas Inge from Childrens Hospital of Colorado, USA; and Prof. Pavel Hamet from the University of Montreal, Canada. For the full list of international speakers please visit: https://cudos.qa/speakers-all-boxed/.
Read the Arabic press release here.
To register for CUDOS 2019, please visit: www.cudos.qa. Please note that there will be pre-conference workshops, scientific sessions and training courses from 20th to 26th November 2019. To submit an abstract, please visit: https://cudos.qa/abstract-2/.
- END-
About Sidra Medicine
Sidra Medicine provides specialized healthcare to women, children, and young people from Qatar and around the world.
Established by Qatar Foundation for Education, Science and Community Development, Sidra Medicine embraces best practice medical education, innovative biomedical and clinical research and discovery, and exceptional patient and family focused care.
Sidra Medicine provides comprehensive specialist healthcare services for children and young people, as well as maternity and gynecology care for women. Some of its unique children's specialist services include Cardiology, Neurology, Urology and Plastics & Craniofacial Reconstruction. It is also currently the only specialist center in the country that treats and cares for pregnant women with fetal complications.
The ultramodern healthcare organization is a testament to Qatar's pioneering spirit and sustained commitment to its human and social development.
To access Sidra Medicine services, and learn more about our contribution to global healthcare, education and research, please visit www.sidra.org.