Program welcomes first international Fellow from Kuwait
Doha, Qatar, 21 October 2019: Sidra Medicine has launched a fellowship program in Medical Toxicology and has welcomed the program's first international fellow from the State of Kuwait
Medical Toxicology is a medical subspecialty focusing on the diagnosis, management and prevention of poisoning, toxicity and other adverse health effects due to medications, chemicals, occupational and environmental toxins, and biological hazards.
Sidra Medicine's Medical Toxicology services, which are under the Department of Emergency Medicine, includes the Qatar Poison Center – a free helpline for the public. The Department is also in charge of offering CME accredited annual workshops on topics related to clinical management of poisons; toxic terrorism and advanced hazmat life support.
The Medical Toxicology Fellowship curriculum at Sidra Medicine covers the core facets of toxicology with the goal of training fellows to build their expertise for their future practice in medicine. In addition to learning and research, the fellows also receive hands-on clinical experience and provide phone-based consultations for the Qatar Poison Center.
Prof. Khalid Al Ansari, Chair of Emergency Medicine and founder of the Qatar Poison Center at Sidra Medicine said: "We are thrilled that more candidates consider Qatar as a viable option for fellowships in specialist fields. We have a long standing level of cooperation with healthcare partners in Kuwait and it gives me great pleasure to welcome our first international fellow for the medical toxicology program, Dr. Abdulatif Aloumi to Doha. We wish him all the best during his fellowship with us."
"Previously, a vast majority of regional fellows who wished to specialize in pediatric medicine and its specialties like Toxicology for example, would have had to typically to go to North America or Europe. Since offering the program at Sidra Medicine, this will be very appealing to candidates to get the same quality of training here in Qatar," continued Dr. Khalid Al Ansari.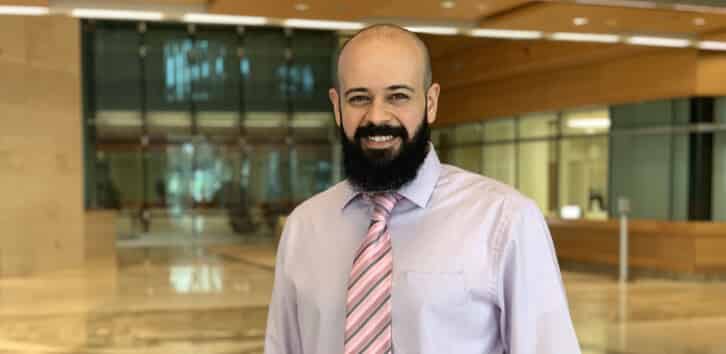 Dr. Abdullatif Aloumi, Toxicology Fellow at Sidra Medicine
Dr. Abdullatif Aloumi will work for two years with the Department of Emergency Medicine. He will focus on medical toxicology which includes poisoning management services provided by Sidra Medicine's Qatar Poison Center helpline.
Dr. Abdulatif Aloumi, the fellow said: "I am really pleased to join Sidra Medicine's Toxicology fellowship. My goal is to apply my learning related to toxicology back in Kuwait where we are seeking to replicate some of the advanced toxicology related measures Sidra Medicine has implemented here in Qatar. For example the setting up of a poison control center is of particular interest. Also, becoming a certified instructor on toxicology related subjects will also be another important part of my fellowship."
Prof. Ibrahim Al Janahi, Chair of Medical Education at Sidra Medicine said: "This is an exciting time for our medical education efforts as we expand our reach to attract talent from within the Gulf region. The fellows will train alongside some of the world leading specialists in their fields of expertise at Sidra Medicine with a multidisciplinary approach to learning. We welcomed a fellow from Sudan last year to our pediatric urology division and look forward to welcoming more fellows from the Arab region and beyond."
- END -