Doha, Qatar, 09 December 2019: Microtia is a congenital deformity affecting approximately one out of 4,000 births globally1. Children born with the condition have incompletely formed or entirely missing ears.
There is no known cause for microtia, and it can affect children on either one or both ears (bilateral microtia). Children with microtia experience varying degrees of hearing loss due to the underdeveloped or missing outer and middle ear regions.
Dr. Mitchell Stotland, Division Chief of Plastic and Craniofacial Surgery, leads Sidra Medicine's world-class microtia reconstruction program. The program also covers children with the associated condition of hemifacial microsomia, including with interventions to augment and/or lengthen the undergrown tissues and bones of the face. The multidisciplinary medical/surgical team is supported by Sidra Medicine's Allied Health services for all forms of craniofacial disorders.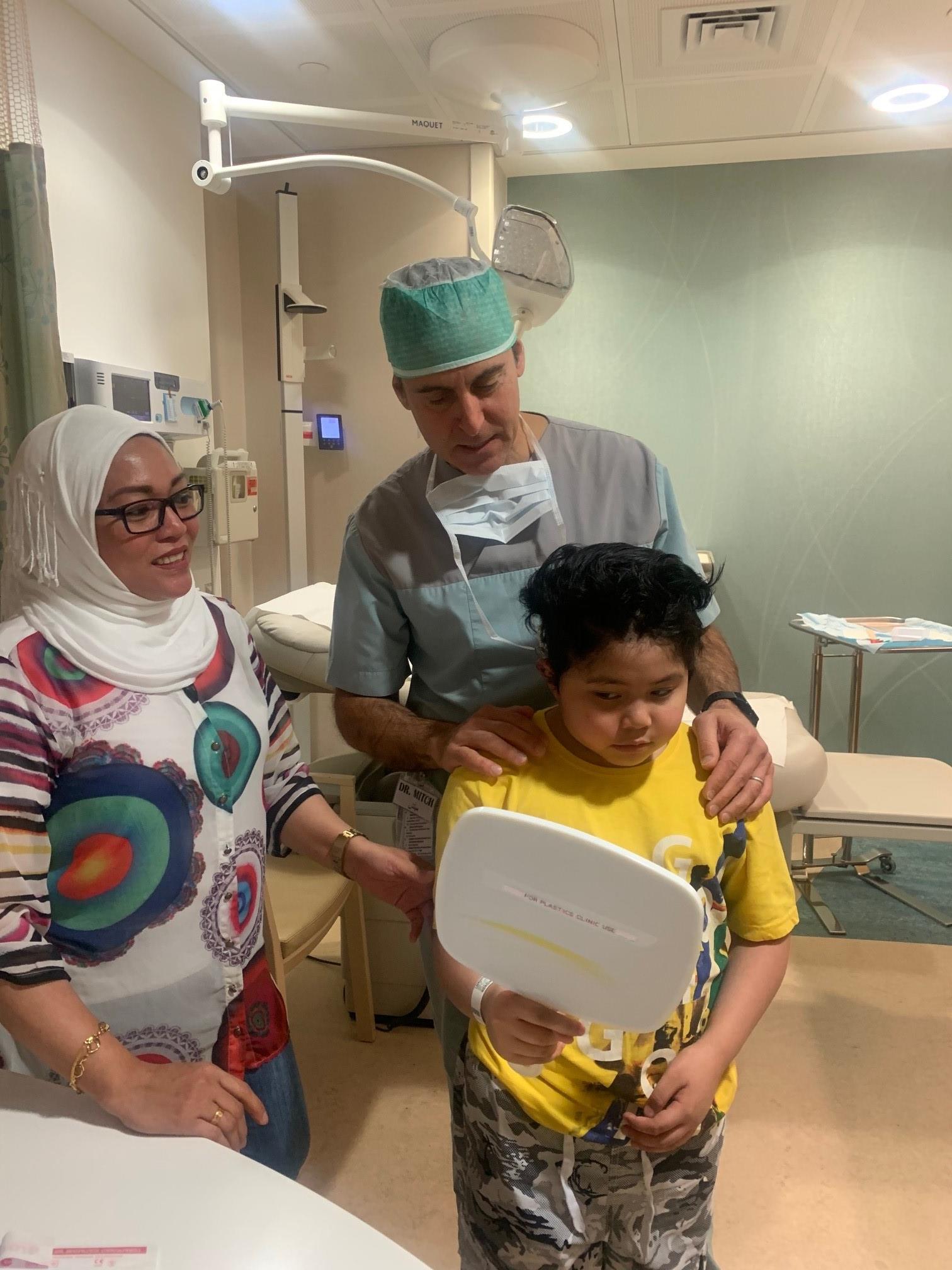 Dr. Stotland said: "In the past, microtia and hemifacial microsomia patients in Qatar were referred to hospitals in Europe or North America. Or experts from abroad were occasionally brought in for a few days to specifically treat the microtia. With the opening of our main hospital facility in January 2018, the Plastic and Craniofacial Surgery Division at Sidra Medicine began to offer many specialized pediatric services here in Qatar. The care we provide is done within a multidisciplinary context, which ensures the continuum of care for the patient. We have assembled a wonderful program with a world-class team. I also believe that what we provide now at Sidra Medicine for patients with microtia is on par with the finest care that can be obtained anywhere in the world."
The microtia reconstruction surgical procedure involves using pieces of cartilage obtained from the patient's chest. The cartilage is then trimmed and sculpted and the ear is meticulously assembled to match the child's other ear, or possibly a parent's ear for those children missing one on both sides.
Speaking specifically about the fabrication of ears for patients with microtia, Dr. Stotland noted: "For many of these children, we have also performed jaw lengthening and soft-tissue augmentation procedures. This operation, more than anything that is done in all of surgery, truly is a cross-over between science and art. Much of the success of these procedures relies on careful planning, high quality medical photography, the use of customized surgical templates, and attentive postoperative care to ensure optimal healing."
One microtia patient, Abdulrahman, recently underwent ear reconstruction surgery at Sidra Medicine. Commenting on the surgery, his mother Maribel said: "We were thrilled to find out that the service is available at Sidra Medicine. Dr. Stotland and his team have been amazing, walking and talking us through every step of the surgeries and the after care at home. Abdulrahman loves his new ear, and I have seen him look at it in wonder in the mirror several times as he still can't believe it was constructed from his own rib cartilage! I personally know the impact the surgery of having a new ear for my son means to him, especially as he grows older. It will take away the self-consciousness and self-esteem issues that we were so worried that he would face if he didn't get the surgery done on time."
Most surgical interventions for patients with microtia are performed after the age of four to five. Total ear reconstruction does not usually occur prior to seven to eight years of age, when a child is big enough to provide adequate tissue for a surgeon to construct an ear. Microtia reconstruction typically requires two to three procedures. If a patient also has hemifacial microsomia, additional interventions are usually beneficial.

"We have the privilege to follow many of our patients from birth through to adolescence and beyond, and work closely with their parents and the healthcare professionals across a broad range of pediatric specialties. This includes Neurosurgery, Ophthalmology, Otolaryngology, Orthodontics and Allied Health services such as occupational therapy, speech therapy and nutrition. Our treatment plans often requires many stages of intervention carried out over years, and is aimed at improving function, appearance, and overall quality of life. Sidra Medicine has the advantage of having all these critical support services in one place. This helps us to ensure that the right support is provided during every step of the child's journey with us," concluded Dr. Stotland.
Dr. Mansour Ali, Chair of the Department of Surgery at Sidra Medicine said: "I am incredibly proud of our teams at Sidra Medicine who care and treat young patients with some of the most complex medical conditions. The level of expertise and skills we have amongst our pediatric specialties, speaks to the commitment by Qatar Foundation and the Government of Qatar to give our patients the very best in care and services. Many of the country's pediatric surgery milestones are putting Qatar on the global healthcare map. We are currently receiving interest from doctors and patients across the region who wish to refer microtia/hemifacial patients to Sidra Medicine. We have done much to acknowledge our successes and there is so much more that we are set to offer to the people of Qatar and beyond."
Read the Arabic press release here.
For more details about Sidra Medicine, please visit: www.sidra.org.
- END-
Notes to the editor:
1 – The Journal of Ethics - https://journalofethics.ama-assn.org/article/diagnosing-and-treating-microtia/2010-05