Sidra Medicine has established over 100 medical administration jobs for nationals. Interested applicants are invited to a recruitment open day on 13 August 2017.
The recruitment open day will be from 9.00 a.m. to 9.00 pm on Sunday, 13 August 2017 at the Sidra Medicine Outpatient Clinic. Interested applicants (Qataris and those with Qatari mothers) can apply for roles on the spot and are encouraged to review available job listings at:http://careers.sidra.org/sidra/Qatarization.aspx.
The majority of jobs – which require candidates to be bilingual in Arabic and English – are targeted at primarily at high school graduates and diploma holders who are interested in an entry level career in medical administration. Jobs for experienced professionals seeking careers in guest relations, medical administration and patient financial counselling roles are also available.
Commenting on the open day and the program outline, Dr. Kholode Al-Obaidli, Chief Learning Officer said, "This is an exciting time to join healthcare as Sidra Medicine has taken active measures to invest in the future of young nationals joining the organization – particularly for entry level positions. We are keen to attract individuals who are at the cusp of deciding their future career options and want them to consider healthcare as a great opportunity to kick start their careers. With over 100 roles going, we welcome Qatari candidates (including those with Qatari mothers) and their families to join our recruitment open day on 13 August."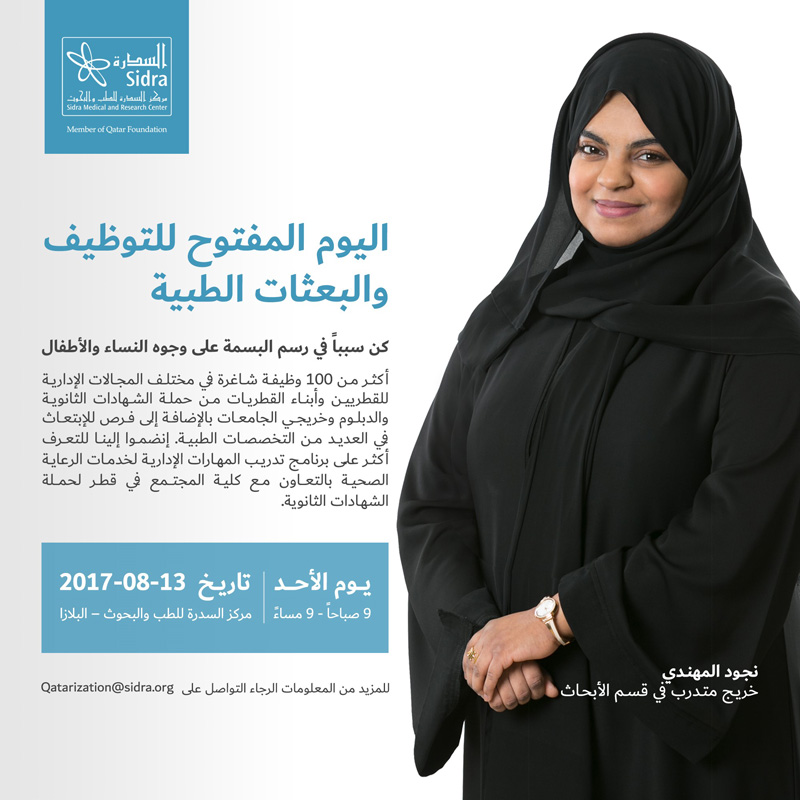 Successful candidates, who have been selected for certain administration roles, will be eligible for a fully paid four month training program at the Community College of Qatar (CCQ). Sidra Medicine CEO Peter Morris and Dr. Abdallah Hazaimeh – Dean of Community College of Qatar from the CCQ will sign a memorandum of understanding (MoU) at the Open Day.
The MoU signals a Sidra Medicine and CCQ partnership to offer a fully customised and Sidra Medicine specific "Healthcare Office Skills" program exclusively for Qatari staff who qualify for some of the entry level roles. The program includes courses such as medical office administration, medical terminology for healthcare, health information management systems and business computer applications.
"Our goal is to ensure that our employees, across all levels of the organization are given access to the right training tools, mentorship programs and learning opportunities to advance their careers. No matter what their role – whether clinical or non-clinical, entry, mid or senior level – each and every one of us at Sidra Medicine will have an impact on caring for the women and children of Qatar. Come join us and help us meet the goals of the Qatar National Vision 2030," concluded Dr. Kholode.
To apply on the spot for the entry level roles, applicants will need to bring along copies of:
National ID (mandatory)
High School certificate (mandatory for entry level jobs only)
Resume (for roles requiring experienced candidates)
The open day, organized by the National Talent Acquisition team at Sidra Medicine, will have national development officers and team members from patient experience, quality assurance, finance, research administration and governance, support services and diagnostic imaging available to talk about the administration roles within their departments.
For more details about the national development at Sidra Medicine, please email qatarization@sidra.org