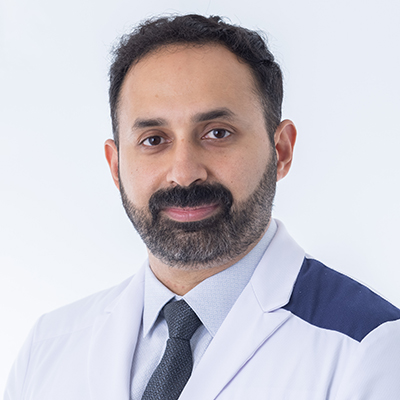 Sanoj Karayil Mohammad Ali
FRACP,MBBS,MD
Attending Physician Neonatology
Years Of Experience: 17
About the Physician

Dr Ali joined the Sidra Neonatology Center of Excellence, Doha in February 2018 from the Royal Hobart Hospital in Australia where he had been previously working as a consultant neonatologist.

The main focus of Dr Ali's clinical research is in the field of automated oxygen control for preterm infants on respiratory support in the neonatal ICU and delivery room in addition to investigating the utility of minimally invasive surfactant therapy (MIST). He has also studied and presented in the past on the use of near infra-red spectroscopy (NIRS) for assessing the cardiovascular transition of very preterm infants soon after birth.

Quality improvement is another area of interest and he has worked on reducing unplanned extubations, improving oxygen saturation targeting in NICU, implementing central line infection prevention bundles, optimizing preterm nutrition and auditing neonatal transports during present and past appointments.

English, Hindi, Kannada, Malayalam, Urdu

Honorary research Fellow, Murdoch Children's Research institute, Melbourne
Senior Clinical Lecturer, University of Tasmania, Hobart

Neonatal respiratory physiology research, neonatal hemodynamics, quality improvement

Research mentorship, airway simulation training

Medical Publications (selected publications for last 5 years)

Ali SKM, Gale TJ, Jayakar R, Marshall AP, Dargaville PA. Preliminary study of automated oxygen titration at birth for preterm infants. Arch Dis Child Fetal Neonatal Ed. 2021. Accepted for publication on 30.12.2021. doi.org/10.1136/archdischild-2021-323486
Dargaville PA, Kamlin COF, Orsini F, Ali SKM et al. Effect of Minimally Invasive Surfactant Therapy vs Sham Treatment on Death or Bronchopulmonary Dysplasia in Preterm Infants With Respiratory Distress Syndrome: The OPTIMIST-A Randomized Clinical Trial. JAMA. 2021;326(24):2478–2487. doi:10.1001/jama.2021.21892
Ali SKM, Mohammed N, Qureshi N, Gupta S. Oxygen Therapy in Preterm Infants: Recommendations for Practice. Paediatrics and Child Health https://doi.org/10.1016/j.paed.2020.10.001
Dargaville PA, Marshall AP, Ladlow OJ, Bannink C, Jayakar R, Eastwood-Sutherland C, Lim K, Ali SKM, Gale TJ. Automated control of oxygen titration in preterm infants on non-invasive respiratory support. Arch Dis Child Fetal Neonatal Ed doi:10.1136/ archdischild-2020-321538
Chakkarapani AA, Adappa R, Ali SKM et al. Current concepts of mechanical ventilation in neonates" Part 1: Basics. International Journal of Pediatrics & Adolescent Medicine 7 (2020) 13-18.