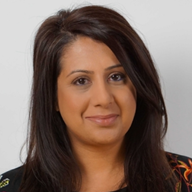 Ifaf Homayra Asghar
BSC (HONS),DClinPsy
Psychologist
Years Of Experience: 12
Dr. Asghar is a Child and Adolescent Clinical Psychologist providing clinical care to children and adolescents in inpatient and emergency department at Sidra Medicine.

She graduated with a First Class Honors degree in Psychology from the University of Glasgow in 2003 and went onto to do a Doctorate in Clinical Psychology also at the University of Glasgow. She attained Chartered status from the British Psychological Society in 2008. Dr. Asghar was awarded the title of Associate Fellow of the British Psychological Society (AFBPsS) in 2015 in recognition of her experience and contribution to the field of psychology since she qualified.

Prior to joining Sidra, Dr. Asghar worked at the Royal Hospital for Children in Glasgow, Scotland. Dr. Asghar is highly experienced in providing evidence-based psychotherapy and has worked across a range of services in the UK with children, young people and families with complex needs. These include: outpatient Child and Adolescent Mental Health Services (CAMHS), inpatient CAMHS, Looked After and Accommodated Children (LAAC), Liaison Psychiatry, Pediatric Clinical Psychology and Pediatric Neuropsychology.

Dr. Asghar routinely provided teaching and training and completed a teaching fellow post at The University of Edinburgh on the MSc in Applied Psychology for Children and Young People and the MSc in Children and Young People's Mental Health and Psychological Practice. Dr. Asghar is also experienced in supervising doctorate in clinical psychology trainees and mental health clinicians in providing psychological interventions. She has been involved in research projects focusing on the standardization of a number of neuropsychological assessments in the UK.