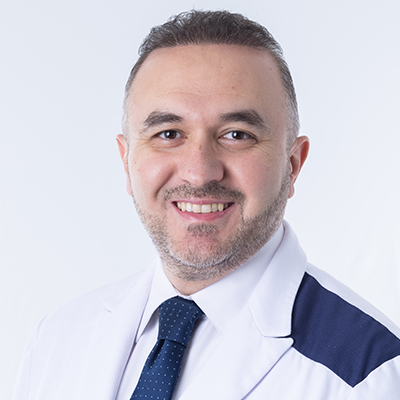 Husam Kayyali
FAES,MD
Chief of Pediatric Neurology Division & Director of the Comprehensive Epilepsy Program
Years Of Experience: 15
Dr. Husam Kayyali is the Chief of Pediatric Neurology Division at Sidra Medicine. He is also serving as the Director of the Comprehensive Epilepsy Program at Sidra Medicine.

Dr. Kayyali is Board Certified by the American Board of Psychiatry and Neurology in Pediatric Neurology, Clinical Neurophysiology and Epilepsy. Before joining Sidra Medicine, Dr. Kayyali was an Assistant Professor of Pediatric Neurology at the University of Missouri-Kansas City, and he co-established the Comprehensive Epilepsy Center at Children's Mercy Hospital in Missouri. Then he moved to King Faisal Specialist Hospital in Saudi Arabia where he served as the Head of Pediatric Neurology Section, and the Director of Pediatric Neurology Fellowship Program

Medical Degree: Faculty of Medicine, Aleppo University.
Residency: Pediatric Neurology, Children's Mercy Hospital in Missouri, USA.
Fellowship: Epilepsy and Clinical Neurophysiology at Cleveland Clinic in Cleveland, Ohio, USA.

Complex epilepsy management.
Epilepsy Surgery.
Ketogenic Diet.
Clinical Neurophysiology.

Selected Medical Publications

Benini R, Asir N, Yasin A, Mohamedzain AM, Hadid F, Vasudeva DM, Saeed A, Zamel K, Kayyali H, Elestwani S. Landscape of childhood epilepsies - A multi-ethnic population-based study. Epilepsy Res. 2022 Jul;183:106936. doi: 10.1016/j.eplepsyres.2022.106936. PMID: 35526330.
Alameen Ali H, Muthaffar O, AlKarim N, Kayyali H, Elmardenly A, Tamim A, Alansari H. The efficacy of non-fasting ketogenic diet protocol in the management of intractable epilepsy in pediatric patients: a single center study from Saudi Arabia. J Int Med Res. 2022 Mar; 50(3):3000605221081714. doi: 10.1177/03000605221081714. PMID: 35259998.
Alqadi K, Alghamdi O, Babtain F, Ba'arma H, Bajammal S, Albalawi M, Alfadhel A, Jawhari M, Abu-Jabber A, Madani N, Al-Said Y, Baz S, Kayyali H. Effects of fasting during Ramadan on seizure control and quality of life in patients with epilepsy. Epilepsy Behav. 2020 Sep 5;112:107440. doi: 10.1016/j.yebeh.2020.107440. Epub ahead of print. PMID: 32906015.
Kayyali H, Abdelmoity S, Bansal L, Kaufman C, Smith K, Fecske E, Pawar K, Hall A, Gustafson M, Abdelmoity A, Abdelmoity A. The Efficacy and Safety of Rapid Cycling Vagus Nerve Stimulation in Children with Intractable Epilepsy. Pediatr Neurol. 2020 Aug;109:35-38. doi: 10.1016/j.pediatrneurol.2020.04.003. Epub 2020 Apr 13. PMID: 32461031.
Alqadi KS, Rammal SA, Alam ME, Alshahrani AM, Baeesa SS, Kayyali HR, Babtain FA, AlSaid YA. Consanguinity in patients with mesial temporal lobe epilepsy due to hippocampal sclerosis in a Saudi population. Neurosciences (Riyadh). 2020 Aug;25(4):276-280. doi: 10.17712/nsj.2020.4.20200055. PMID: 33130813.
Maddirevula S, Alzahrani F, Al-Owain M, Al Muhaizea MA, Kayyali HR et al. Autozygome and high throughput confirmation of disease genes candidacy. Genet Med. 2018 Sep 21. doi:10.1038/s41436-018-0138-x. PubMed PMID: 30237576.
Kayyali HR, Luniova A, Abdelmoity A. Ketogenic Diet Decreases Emergency Room Visits and Hospitalizations Related to Epilepsy. Epilepsy Res Treat. 2016:5873208. PubMed PMID: 27752367.