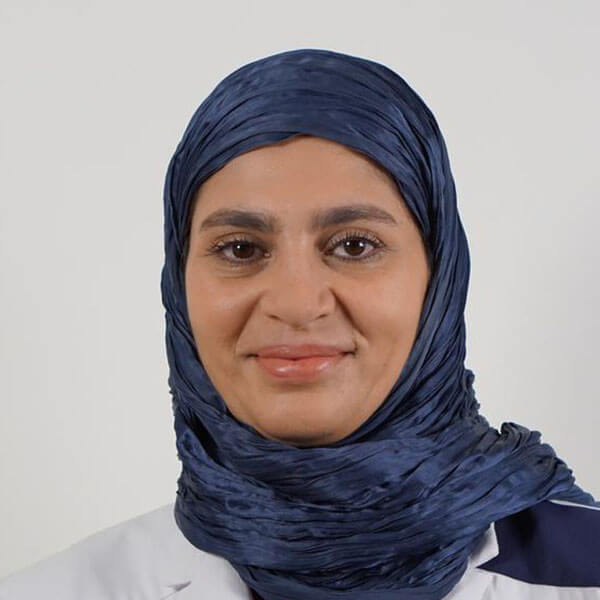 Eman A. Rahman Senan Al Maslamani
CABP,MD
Attending Physician
About Physician

Dr. Eman A.Rahman Senan Al Maslamani is a Pediatric Infectious Diseases Senior Attending Physician at SIDRA Medicine, Doha, State of Qatar. She is an Assistant Professor of Clinical Pediatrics at Weill Cornell Medical College-Qatar and Assistant Professor of Clinical Pediatric at College of Medicine, Qatar University
Dr. Eman the Program Director Pediatric Infectious Diseases Fellowship. She is also an Assistant Program Director of Pediatric Residency Program and Chairs its Assessment Committee.

Administratively, she is the Medical Director of the Infection Prevention & Control Sub-Committee and a member of several committees at Sidra Medicine.
She represents Qatar and is an examiner of the Arab Board of Health Specializations (Pediatric).

As a practitioner, Dr. Eman enhances health of infants, children, and adolescents by promoting excellence in the diagnosis, management, and prevention of infectious diseases through clinical care, education, research, and advocacy. She cares and follows-up Infectious Disease patients in General Pediatrics, Oncology, Orthopedics and other Hospital referred patients (i.e. ENT, Ophthalmology, Plastic, Burn unit patients). Supervising fellows, residents and medical students from WCMC-Q and Qatar University in the ID Clinic as well in daily rounds.
Participating in Residency program teaching (Morning Report, Academic half day/ Ground Round, Clinical teaching Rounds and other didactics). Preparing and reviewing Guideline and policy (pediatric ID Guideline representative)

She has been also a recipient of various awards and citations, published and presented several researches and other scholarly activities both locally and internationally.

In 1995, Dr. Eman obtained her medical degree from Arabian Gulf University, Bahrain. She completed her Pediatric Residency Training in 2001 and Pediatric Infectious Diseases Fellowship Training in 2008 both at Hamad Medical Corporation. In July 2016, she had Clinical Observership in Pediatric Blood and Marrow Transplant at the Duke University Medical Center, USA.
Hamad Medical Corporation & IHI Quality and Safety Improvement Fellowship 2015

Assistant Professor of Clinical Pediatrics at Weill Cornell Medical College-Qatar
Assistant Professor of clinical Pediatric at College of Medicine, Qatar University
Member of several committees of Sidra Medicine, Hamad General Hospital, Hamad Medical Corporation and Ministry of Public Health.

She demonstrates a strong interest in the education of medical students, residents and fellows by devoting sufficient time to the educational program to fulfill supervisory and teaching responsibilities. Participates in faculty development programs designed to enhance the effectiveness of her teaching and to promote scholarly activity. She works closely with and support the Pediatric Residency Program Director. Lastly, implements evaluation systems for the residency and fellowship program, Arab Board of Health Specialization in Pediatrics and the newly established Qatari Board of Medical Specialties.

Program Director of TY Residency Program HGH 2016-May 2021
Program Director of Pediatric Infectious Disease Fellowship 2017- present
Assistant Program Director of Pediatric Residency Program ACGME-I 2018-present
Arab Board Representative & Examiner for Pediatric Residency Program 2014-present
Member of Antimicrobial Stewardship Committee HGH 2016-present
Medical Director of Infection Prevention & Control, AMS at Sidra Medicine July 2021
Member of Sepsis Committee HGH, Sidra 2017-present
Member of Pediatric Infectious Disease Society 2017-present
Member of IDSA 2018-present
Chairman of Exam Committee (Clinical Competency) 2010-present
Member of National Infection Prevention & Control Committee MoPH,2019-present
Member of IDSA 2018-present
Member of STI's National working Group MoPH, 2019- present
Member of National AMR Committee MoPH, 2019-present
Member of National Infection Prevention & Control MoPH, 2019-present

Medical Publications (selected publications for last 5 years)

Improving Awareness of Quality Improvement Concept Among Paediatric Residents in Hamad Hospital, Qatar: Successful Story: - 2018, Singapore.
Immune functional studies of a novel pathogenic STK4 genotype: A case report -2018.
Epidemiology and clinical outcomes of viral central nervous system infections -2018.
PEDIATRIC SEPSIS PROGRAM AMONG CHILDREN HOSPITALS IN THE STATE OF QATAR: THINK SEPSIS, SAVE LIVES- World Summit on Pediatrics (WSP) 22-23 June 2019.
Molecular Characterization of Extended-Spectrum β-Lactamase-Producing Escherichia coli and Klebsiella pneumoniae Among the Pediatric Population in Qatar- 2020.