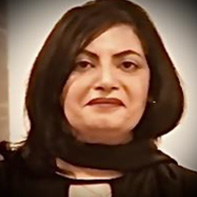 Durre Shahwar
MBBS,MRCPsych,UK Post-Graduation certificate in Medical Education
Consultant Psychiatrist
Years Of Experience: 26
About the Physician

Dr. Durre Shahwar has been working as Consultant Psychiatrist Child and Adolescent Mental Health Services at Sidra medicine, Doha, Qatar, since 2018.

Dr. Shahwar completed Medical Graduation in 1996 from Khyber Medical College Pakistan and practiced General Medicine. She moved to UK in 2005, gained experience in various specialties, including Substance misuse, General Adult and Elderly Psychiatry and completed consultant training in Child and Adolescent psychiatry.

She did MRCPsych in 2013 followed by Completion of Consultant Training (CCT) in 2017. She completed Post Graduate Certificate in Medical Education from Cardiff University UK in 2015.

In UK, Dr. Shahwar worked as a Consultant Child psychiatrist in Aneurin Bevan University Health Board. She has an extensive experience of working in Outpatient and Inpatient settings.

At Sidra she is managing a variety of complex mental health conditions in the Out-patient Clinic.

These include neurodevelopmental disorders (Attention Deficit Hyperactive Disorders, Autism, Tourette's), Anxiety, Depression, Psychosis, Deliberate Self Harm, Emerging Personality Problems, Behavioral issues, Eating Disorders and Gender Identity/Dysphoria cases.

Dr Shahwar has special interest in delivering psychological interventions to appropriate individuals and families. These include Cognitive Behavior Therapy, Interpersonal Therapy, Motivational Therapy, Family work and System Centered Psychotherapy Approach.

At Sidra Associate Training Director for Residents and Fellows and as Clerkship Director and Clinical Instructor for students from Weill Cornell Medical College in Qatar and Qatar University.

She is an International Presenter and has had multiple (invited) presentations in International and local conferences and symposiums. These included lectures and poster presentations.

She has been actively participating in World Psychiatry Association events overseeing Medical Education and Psychiatry in Qatar and organized an International Conference at Sidra Medicine in 2020.

MBBS
MRCPsych
UK Post-Graduation certificate in Medical Education

Member Royal College of Psychiatrists
Clinical Instructor Weill Cornell Medical College in Qatar
Member of Transcultural Psychiatry Section of World Psychiatry Association with special interest in Mental Health issues influenced by Migration and Globalization.
Member of Fellowship Selection Committee for CAMHS, Sidra Medicine.

Transcultural Psychiatry and Philosophy

At Sidra Medicine, she has taken up the role of Associate Training Director for Residents and Fellows and fulfilling responsibilities as Clerkship Director and Clinical Instructor for students from Weill Cornell Medical College in Qatar and Qatar University.
Dr Shahwar is a co-author of a Pilot Study: The World Psychiatry Association Inaugural Student-Led Mental Health Conference to Increase Interest in Psychiatry as a Career in Qatar. (PubMed September, 2020) and in Journal of the American Academy of Child & Adolescent Psychiatry, October 2020. She Co-Authored a chapter on Sleep Disorders in Children and adolescent in the book "Chronic Disease and Disability: The Pediatric Heart", Second Edition (New York: Nova Biomedical, 2020). Currently, she is participating in a Research Grant on Autism Spectrum Disorders at Sidra Hospital, Doha, Qatar.