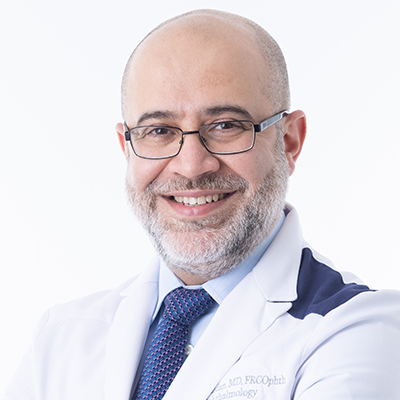 Diyaa Rachdan
MD,FRCOphth,MSc(Oxon)
Senior Attending Physician, Pediatric Ophthalmologist and Corneal Surgeon
Years Of Experience: 25
About Dr Rachdan

Dr. Rachdan is an Ophthalmic Surgeon at Sidra Medicine with a wide clinical experience complemented with a dual Subspecialty Fellowship Training in Pediatric Ophthalmology at the Hospital for Sick Children, "Sick Kids", Toronto, Canada) and Cornea and Anterior Segments at (Birmingham, United Kingdom).

Dr. Rachdan performed a large number of various ophthalmic surgical procedures in all subspecialties for children and adults, published papers in both Basic Science and clinical Ophthalmology, some of which are listed below and gave lectures and presented posters in international meetings

Dr. Rachdan joined Sidra in 2018 after working as Consultant Pediatric Ophthalmologist and Corneal Surgeon at Nottingham University Hospitals, UK providing eye care for both children and adults especially Cataract Surgery with Lens implantation. He also served as College Tutor for the Royal College of Ophthalmologists.

Certificate of Completion of Training in Ophthalmology (CCT), General Medical Council, UK, July 2013
Fellowship of the Royal College of Ophthalmologists, (FRCOphth), The Royal College of Ophthalmologists, London, UK. March 2013
Membership of the Royal College of Ophthalmologists, (MRCOphth), The Royal College of Ophthalmologists, London, UK. March 2006
Master of Science by Research (MSc) in Ophthalmology, University of Oxford, Oxford, UK. August 2003
International Council of Ophthalmology Clinical Assessment (ICO), International Council of Ophthalmology, April 2003
Certificate of the Arab Board of Ophthalmology (CABO), The Arab Board for Health Specializations, March 2002
Certificate of Specialty in Ophthalmology (CSO), Syrian Commission for Medical Specialties, Ministry of Health, Damascus, Syria. May 2001
Doctor of Medicine (MD), Faculty of Medicine, University of Aleppo, Syria. July 1996

Assistant Professor, Weill Cornell Medicine, Qatar

Pediatric cornea and Anterior Segments Diseases, Pediatric Cataract, Strabismus, Idiopathic Intracranial Hypertension, Blocked nasolacrimal duct.
High volume adult Cataract Surgery

Peer-reviewed papers:

Anu Maudgil, Diyaa Rachdan, Muhammad Saad Khan, Amir Siddiqui, Lil-Naz Hazrati, Michael D. Richards, Nasrin Najm-Tehrani and Asim Ali: Bitot-like spots in children with normal vitamin A levels: Eye; https://doi.org/10.1038/s41433-021-01569-z
D. Rachdan, D. Anijeet and S. Shah: Atopic Keratoconjunctivitis: Present day diagnosis. British Journal of Ophthalmology, 2012 Nov; 96(11):1361-2.
D. Anijeet, D. Rachdan and S. Shah: Visual improvement after corneal endothelial transplantation: are we seeing better?: British Journal of Ophthalmology. 2012 Mar; 96(3):309-10
D. Rachdan, M. F. Lou and J. J. Harding: Glutathione reductase from human cataract lenses can be revived by reducing agents and by a molecular chaperone α-crystallin. Current Eye Research Journal, Oct; 30(10):919-25, 2005
D. Rachdan, M. F. Lou and J. J. Harding: Revival of inactive glyceraldehyde 3-phosphate dehydrogenase in human cataract lenses by reduction. Experimental Eye Research Journal, 79 July (2004) 105–109.