Qatar Foundation institution showcases unique skills of home grown talent
Doha, Qatar, 21 November 2018: Up and coming young Qatari physician, Dr. Aisha Ahmad Yousuf has successfully completed the first robotic hysterectomy surgery performed at Sidra Medicine. Dr. Aisha Yousuf is the first Qatari and physician located in Qatar who performed Robotic Hysterectomies and Myomectomies in Doha.
The surgery was performed by Dr. Yousuf and the Division Chief of Gynecology, Dr. Nady Mohamed, along with a highly skilled team of anesthesiologists, nurses and technicians. It was conducted using state-of-the-art technology and equipment. The patient was discharged on the 20th of November.
Dr. Yousuf is an American board certified physician and a fellow of the American College of Obstetricians and Gynecologists (ACOG). She specialized in Minimally Invasive and Robotic Gynecology Surgery in Canada after sponsorship by Sidra Medicine. She completed her residency training at University of Michigan Hospital in the US and was educated at Sidra Medicine's academic partner, Weill-Cornell Medicine in Qatar. She joined Sidra Medicine as the Director of Reproductive Medicine and specializes in minimally invasive and robotic surgery.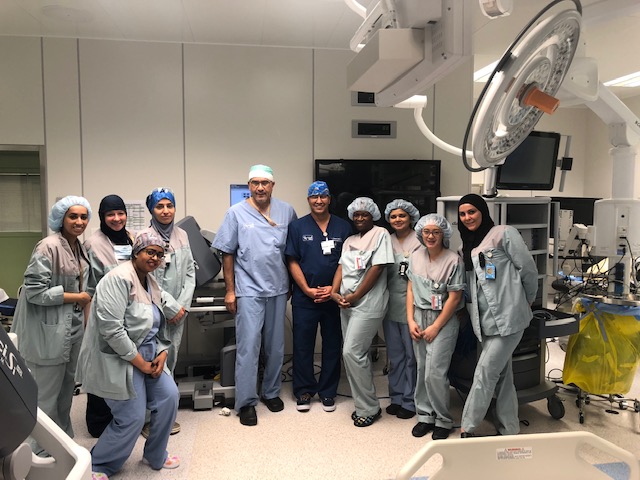 Dr. Yousuf commented, "I am delighted that we have actively launched robotic gynecology surgery at Sidra Medicine in less than a year since welcoming our first inpatients in January. Family is at the core of Qatari culture and at the very heart of this is women. It is therefore vital that women are able to have access to groundbreaking and innovative healthcare solutions. Whether a young woman has a gynecological issue or she is a mother who requires post-partum mental healthcare support – our spectrum of services are personalized to meet the criteria that is important to her."
The robotic gynecology surgery will be one of two robotic surgery options offered at Sidra Medicine – including robotic myomectomy and robotic hysterectomy. Robotic surgery is highly accurate and minimally invasive as it is performed through small key-hold incisions rather than open surgery. This means that there is reduced pain, significantly less scarring, a lower risk of complications and patients can be discharged sooner due to shorter hospital stays.
"We want young women to be active participants in their health and that starts by feeling assured that Sidra Medicine, thanks to the support of the Government of Qatar and Qatar Foundation, has invested across the spectrum of female related care concerns. I hope more women are made aware that we have the technical expertise, skills and teams to perform highly complex surgeries here in Qatar. We have already seen several female patients who have opted to come to Sidra Medicine instead of travelling to other countries in Asia or North America," continued Dr. Yousuf.
Dr. Nady Mohamed, Division Chief of Gynecology commented by saying,"Minimally invasive surgery (MIS) including robotic assisted laparoscopic procedures are now becoming the gold standard for the majority of gynecological surgeries. We are committed to achieving one of Sidra Medicine's goals to become a center of excellence for MIS by not only performing such surgeries but also teaching the new generation of physicians to be innovative in such fields. We hope that through our mentorship and training, we will have developed a highly skilled set of young physicians who will go on to pioneer new medical treatments and discoveries in the future."
Robotic Gynecological Surgery is performed on Sidra Medicine's two Da Vinci Robots, giving doctors better visualization with 3D cameras and surgical ergonomics. This enhanced visualization and the ability to perform minimally invasive surgery, thanks to robotics, also enables doctors to overcome challenging patient factors such as elevated BMI and obesity.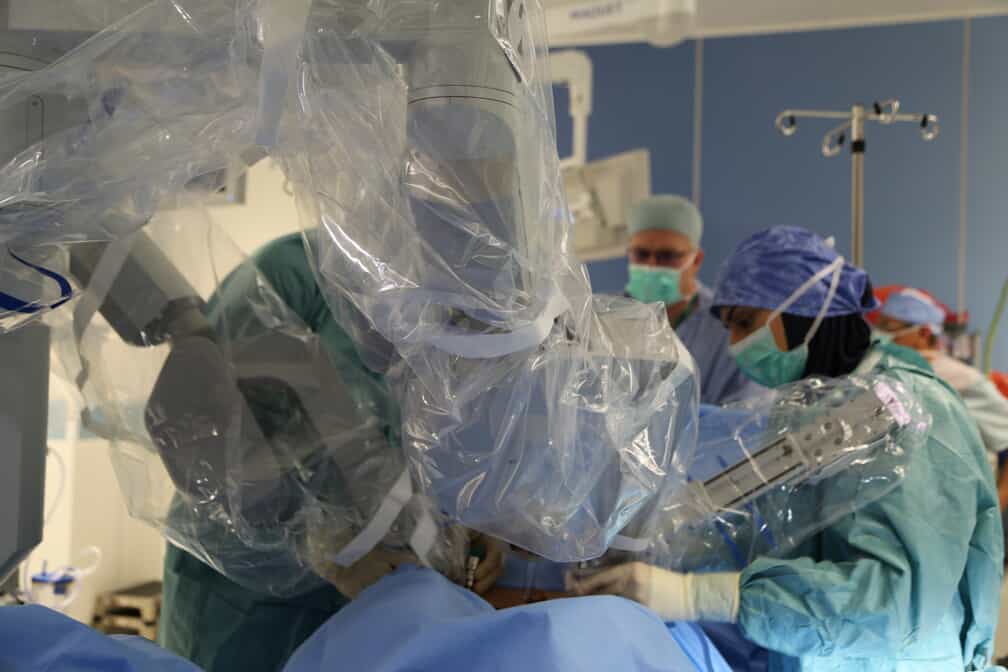 Commenting on the announcement, Dr. Justin Konje, Executive Chair of Women's Services Clinical Management Group at Sidra Medicine stated: "As part of Sidra Medicine's commitment to Qatar, we are delighted to be able to develop leading surgeons of the future. We are also grateful to our partners at Hamad Medical Corporation, where many of our physicians have had an opportunity to work with their teams before several of Sidra Medicine's clinics became fully functional."
"Dr. Yousuf is a prime example of just how vital ongoing investment in medical education is. Not only did she become the first Qatari female gynecologist able to perform such a highly specialized treatment, which in itself is a significant achievement, but her unique skill set ensures that patients have access to the best possible treatment. We want to continue to nurture medical talent and ensure we offer the best training and access to world-leading staff and equipment that we possibly can."
The addition of Robotic Gynecology Surgery is part of Sidra Medicine's ambitious plans to set new standards for healthcare in Qatar and the region by leveraging the latest technology, techniques and teaching methods as well as attracting leading medical talent both locally and internationally. The Women's Services program further builds on Sidra Medicine's existing specialized Robotic Pediatric Surgery program announced earlier this year.
Sidra Medicine's Women's Services, in addition to accepting referrals from the private and healthcare sector, also accepts self-referrals. For details about Women's Services at Sidra Medicine, please call Women's Services on 4003 7113 (weekdays between 7.00 am to 3.00 pm), email wcct@sidra.org or visit www.sidra.org/women.

-END-
About Sidra Medicine
Sidra Medicine provides specialized healthcare to women, children, and young people from Qatar and around the world.

Established by Qatar Foundation for Education, Science and Community Development, Sidra Medicine embraces best practice medical education, innovative biomedical and clinical research and discovery, and exceptional patient and family focused care.

Sidra Medicine provides comprehensive specialist healthcare services for children and young people, as well as maternity and gynecology care for women. Some of its unique children's specialist services include Cardiology, Neurology, Urology and Plastics & Craniofacial Reconstruction. It is also currently the only specialist center in the country that treats and cares for pregnant women with fetal complications.
The ultramodern healthcare organization is a testament to Qatar's pioneering spirit and sustained commitment to its human and social development.

To access Sidra Medicine services, and learn more about our contribution to global healthcare, education and research, please visit www.sidra.org.