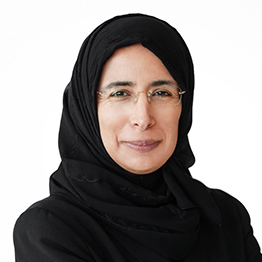 Her Excellency Dr. Hanan Mohammed Al Kuwari
Member of the Board of Governors
Her Excellency Dr. Hanan Mohamed Al Kuwari was appointed as Qatar's Minister of Public Health in January 2016. She is also Managing Director of Hamad Medical Corporation (HMC), a position she has held since 2007.
Her Excellency is the Chairperson of numerous boards, including the Academic Health System International Advisory Board, the Hamad Healthcare Quality Institute International Advisory Board, and a number of other committees at the Ministry of Public Health. She is also a Co-Chair for the Joint Advisory Board of Weill Cornell Medicine, Vice Chair for the Board of the Qatar Precision Medicine Institute and a member of the Qatar University Board of Regents, Sidra Medicine Board of Governors, Board of Directors of Qatar Foundation for Social Work as well as Qatar Foundation's Qatar Research, Development and Innovation Council. In October 2018, Her Excellency was elected as an international member of the United States' National Academy of Medicine (NAM).
Following completion of a bachelor's degree and master's degree in healthcare management, she obtained a PhD in Healthcare Management from Brunel University in the UK in 2002.