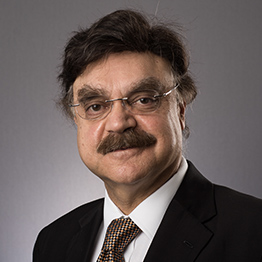 Dr. Javaid I. Sheikh
Ex-Officio Member of the Board of Governors
Professor Sheikh is an internationally renowned medical executive, distinguished clinician,and widely sought after thought leader and innovator in global academic medicine. As the Dean of the groundbreaking Weill Cornell Medicine in Qatar (WCM-Q), he is the Chief Academic Officer of the first successful international branch campus of a US, research-intensive graduate medical school to grant a medical degree from a US university. WCM-Q graduates have distinguished themselves as peers of the best and the brightest of their US and global counterparts and are now part of the next generation of doctors and doctor-scientists serving this region and the rest of the world.
In addition to the new and innovative model of undergraduate medical education at WCM-Q, Dean Sheikh has also built the first Academic Center for Translational and Clinical Research, where the collaborative work of clinicians and scientists is focused on the unique populations of the MENA region. Under his leadership, WCM-Q has attracted a critical mass of world-class educators, biomedical scientists, medical and public health specialists who are actively fulfilling Qatar's national vision of transforming itself from a petrochemical to a knowledge based economy with the objective of improving the lives of its citizens.
To support the ongoing professional development of healthcare practitioners Dean Sheikh established a Division of Continuing Professional Development at WCM-Q that is currently recognized by Qatar's Supreme Council of Health as a major provider of continuing education for all practicing doctors, nurses and allied healthcare providers. Additionally, he founded and co-edits a new academic journal, Innovations in Global Health Professions Education, dedicated to providing an accessible international platform for profiling, discussing and debating innovations in the rapidly growing field of global medical and health education.
During his tenure at WCM-Q, Dean Sheikh has led the conceptualization and implementation of comprehensive programs to advance health promotion and disease prevention for the general population of Qatar by cultivating healthy behaviors in school age children, and by designing and conducting population-based, longitudinal studies to assess the efficacy of these interventions.
In recognition of his leadership role in education and public health policy making, Dean Sheikh has been asked to serve on a number of national health policy committees including his role as Co-Chair of the Joint Steering Committee of Qatar's Academic Health System and as a member of the Qatar Council on Health Practitioners Board of the Supreme Council of Health as well as the Executive Committee of the Board of Governors of Sidra Medicine.
Prior to joining WCM-Q in 2007, Dean Sheikh built a distinguished career as Professor of Psychiatry and Behavioral Sciences, Associate Dean and Chief of the Medical Staff and Chairman of the Board of the Palo Alto Institute for Research and Education at the prestigious Stanford University School of Medicine and the Veterans Administration Palo Alto Health Care System in California. At Stanford, Dr. Sheikh published the first studies exploring the impact of aging on anxiety disorders, while delineating differential sleep architecture in various anxiety disorders. His work was funded both by the NIH and private sources and resulted in more than 140 publications and more than 100 abstracts in peer reviewed scientific journals.